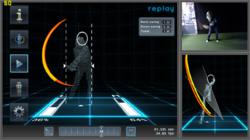 Today is a milestone for our company. We are proud to introduce to the American golf community the only golf training system that combines 3D visualization with a simple, interactive and intuitive feedback platform. Sebastien Wulf, CEO
Louvain-la-Neuve, Belgium (PRWEB) October 29, 2011
Answering the need for simple, intuitive, real-time 3D swing analysis, guru training systems introduces the new version of its swinguruTM training and teaching system to the American market today. Engineered by golfers for golfers, the software uses state-of-the-art 3D motion capture technology, needing only one camera to support and cover each swing/ body angle. This technology is the result of R&D efforts between golf professionals, software engineers and biomechanics experts. « Today is a milestone for our company. We are proud to introduce to the American golf community the only system that combines 3D visualization with a simple, interactive and intuitive feedback platform. A system that invites golfers to a different kind of digital experience. guru training systems' innovative technology is changing the dynamics of training and offering unlimited potential in the future of interactive entertainment. » claims Sebastien Wulf, CEO. Earlier this month, the company was present as a sponsor of the annual Golf Business Network Instructor Summit in Orlando.
What can « swinguru » do ?
swinguruTM records and replays the swings automatically after detection. Each swing can be controlled by offering traditional pause, forward and backward and frame-by-frame video. Simultaneous top, side and front views are shown on the same screen. The software recognizes each body gesture and therefore no mouse or keyboard control are necessary. Each training session is automatically saved including all swing data for replay and/or comparison at any time. Swing motions can also be recorded as pictures with the sophisticated « match your posture function ». This function freezes the golfer's « set up », « 9 o'clock « & « top of backswing » positions for comparison and direct feedback live training.
Features and benefits:
simple &easy to use
one camera – quick calibration
intuitive & interactive
real-time feedback and analysis : address, top of swing, impact and finish etc.
marker-less motion capture
automatic visual indicators : head, shoulders, side bars, weight transfer
gesture-driven 3D interface
position analysis and recording, replay
full body gesture recognition
moves can be seen from a wide array of angles- 4 views
recording is automatic
fault-finding system linked to specific corrective drills (coming soon)
special equipment is no longer necessary
« step by step » teaching & training program
golfer profiles
dynamic swing analysis
About guru training systems
guru training systems is a European company specialized in 3D sports movement analysis. Founded in March 2010, the company now counts a dozen of professionals. In addition to its internal resources, guru works with experts in sports biomechanics and golf instruction as well as doctors and University professors. Main technology partners include leading gesture recognition provider Softkinetic.
guru training systems will be present in booth 1373 at the PGA Merchandize Show, 25-28 January 2012 in Orlando, FL.
###