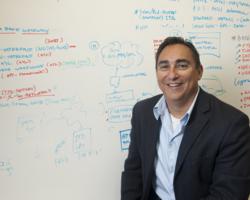 Milwaukee, WI (PRWEB) October 31, 2011
The Society for Information Management (SIM) of Wisconsin recently named Ivan Imana, Vice President of Information Technology for Adelman Travel Group ($300 Million; Milwaukee, WI; Hartford, CT; Fort Worth, TX; and, Irvine, CA) as its "CIO of the Year" in the organization's "Emerging" category. Imana will receive the award at SIM's annual Awards Breakfast on Tuesday, November 8, at the Pfister Hotel in Milwaukee.
In a letter to Imana, Jeff Melcher, President of SIM Wisconsin, said, "The original nomination was a reflection of your organization's respect and appreciation for the many quality accomplishments you have brought not only to Information Systems but to the business as well. Your selection by the judging committee was acknowledgement that these contributions are just as apparent and recognized by an independent group."
Imana earned the honor in large part because of his contribution to the development of Global Gateway, Adelman's proprietary travel management console that offers clients real-time control of their corporate travel resources. "Our entire organization is extremely proud that SIM has recognized Ivan as CIO of the Year," according to Michelle De Witt Bugajski, Controller and Director of Human Resources for Adelman. "It is doubly gratifying that his award was earned in the 'Emerging' category, as the award clearly indicates our client-focused development efforts are recognized as significant contributions to the entire travel industry."
Adelman Travel Group specializes in account management services for its clients. The industry leader's Global Management Consultants work with clients to cut their travel costs up to 28% without sacrificing an ounce of service. They're able to accomplish this feat by implementing cost-avoidance strategies identified by working side-by-side with each client as an individual. The key driver of the increased efficiency: Adelman's Global Gateway management dashboard. The key driver behind the development of Global Gateway: Ivan Imana, in collaboration with the Adelman Global Management Consultant Team.
Ivan Imana began his career with Adelman Travel Group in 1995 as a Senior Staff Accountant. Shortly thereafter, he was promoted to Financial Reporting Manager, where he gained a deep-seated appreciation for cost effective solutions for both Adelman and its clients. Imana was named Manager of the company's Technology Department in 2004, and has since earned his promotion to Vice President, Information Technology. Not surprisingly, his primary responsibilities at Adelman involve finding solutions so the company can be more productive and competitive in the market place. In addition to his role at Adelman, Imana also serves on two Advisory Boards for the industry's Online booking tools.
"As a technology professional, I sincerely appreciate the recognition of the Society for Information Management," said Imana. "I am especially proud that the 'Emerging' category recognizes IT executives for their ability to successfully integrate technical solutions that help deliver corporate efficiencies, especially in today's challenging economy."
The Society for Information Management's 2011 Awards banquet is scheduled for Tuesday, November 8, in the Imperial Ballroom of the Pfister Hotel in Milwaukee, WI.
For additional information about Ivan and the "CIO of the Year" award from SIM, please contact Laura Schad, Marketing Operations Manager for Adelman Travel Group, at (414) 410-8382.
About Adelman Travel Group
Adelman Travel Group is a unique provider of travel management for corporations with both national and global requirements. It has four regional travel solution centers: Hartford, CT, Milwaukee, WI, Fort Worth, TX and Irvine, CA. Adelman is a shareholder in RADIUS, a global travel company with more than $19 billion in sales located in over 80 countries worldwide. The company offers dedicated affiliate offices in Asia, Canada and Europe and operates full-service, onsite travel centers for corporations throughout the United States and worldwide. Adelman was founded in 1985 and is headquartered in Milwaukee, WI.
###