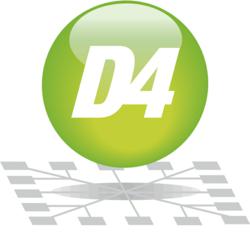 We are honored to be included on such a prestigious list for the second year in a row," said John Holland, CEO of D4. "The Rochester area is full of amazing talent and we are thrilled to be recognized among the best and brightest this region has to offer
Rochester, New York (PRWEB) October 28, 2011
For the second year in a row, D4 has been recognized by the Rochester Business Alliance and KPMG, LLP as one of Rochester's Top 100 for 2011. D4 joins an impressive group of the fastest growing privately held companies in the nine-county, Upstate New York region.
"We are honored to be included on such a prestigious list for the second year in a row," said John Holland, CEO of D4. "The Rochester area is full of amazing talent and we are thrilled to be recognized among the best and brightest this region has to offer."
D4 is a leading provider of electronic discovery, computer forensics and litigation support services. Also recognized by Inc. Magazine's Inc.5000 list of fastest-growing private companies in America for 2011, D4 continues to grow at an exponential rate. Since being ranked #5 on the Rochester Top 100 last year, the company has added over 20 employees and three new locations. Even with offices that span the United States, the company's commitment to the Rochester area is strong. In fact, D4 recently cut the ribbon on a new corporate headquarters, located at 222 Andrews Street in the heart of the city.
"The new facility includes a state-of-the-art data center and a 1.6 million dollar investment in much more than a location," continued Holland. "Our new headquarters is also representative of our commitment to the area and to continued growth and success. Being named to the Rochester top 100 for the second year in a row is a reflection of this commitment."
D4 has experienced rapid growth since it began in 1997 and is gaining momentum. The company is firmly rooted in the Rochester area as it continues to grow, adding jobs for the local community and across the nation as well.
About D4
D4 is a national leader in litigation support and e-Discovery services to law firms and corporate law departments. D4 covers the full spectrum of the Electronic Discovery Reference Model (EDRM), from identification and preservation of data through forensic and targeted onsite data collection; from data analytics and defensible search methodology through hosted review and production. D4's team of e-Discovery Experts assists attorneys in litigation response planning, strategies for negotiation of scope and meet-and-confer, computer forensics, expert testimony and cost reduction practices in litigation support projects. D4 was one of the first companies to introduce an eDiscovery Managed Service Solution, called eNtrust. D4 was named by kCura as "Relativity Best in Service" in 2010 and 2011.
Founded in 1997 and through its combination and rebranding with DocuLegal, D4 has grown to a national presence. With over 100 employees, D4 has offices in Rochester, Buffalo, Tampa, Lincoln, Omaha, New York City, Grand Rapids, San Jose, San Diego, San Francisco, Denver, Washington DC and Providence, RI. State-of-the-art data center operations in Rochester are complemented by electronic discovery and litigation support paper document services throughout the United States. For more information contact D4 at marketing(at)d4discovery(dot)com or visit http://www.d4discovery.com
###