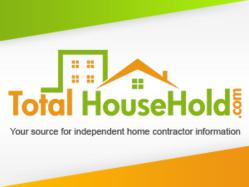 Unlike our competitors, we recognize that we have two distinct clients; homeowners and contractors.
New York, NY (PRWEB) October 31, 2011
TotalHouseHold.com has announced the official launch of its website, http://www.TotalHouseHold.com, which helps homeowners connect to local contractors and home service providers in Connecticut, Massachusetts, New Jersey, New York, and Rhode Island. Service types include kitchen remodeling and bathroom renovations, painting, handyman services, plumbing, roofing, landscaping, movers, and a wide array of others.
Visitors to the website can search a database of over 85,000 local contractors based on project type and location, as well as business characteristics such as whether the service provider accepts credit cards, is open 24 hours, is BBB rated, and more. Users can also read and post reviews; rate contractors based on overall, budget, quality, timeliness, and cleanliness; post photos of work done by contractors; and verify license and insurance credentials. Helpful tips, advice, and articles round out the site, making it a valuable resource for all users.
Home improvement contractors and service providers can use the site to better promote their business, communicate with existing clients and attract new customers. They can manage their own business profile page to add a logo, describe services offered, and present photos of their work. Service providers can also display testimonials, offer coupons and promotions, respond to reviews, and much more.
"Being homeowners ourselves and searching for home improvement contractors, we were always frustrated that there wasn't a reliable online resource we could use to research both a contractor's credentials and customer ratings and reviews," said Jeffrey LaCava, CEO. Mr. LaCava went on to say, "After researching competitors, we realized that they were doing a disservice to the homeowner, the contractor, or both. We differentiate ourselves by recognizing that we have TWO distinct clients with different needs, and we strive to make the industry more efficient for both."
About TotalHouseHold.com
TotalHouseHold.com is the largest directory of home improvement, remodeling, construction, and other home service provider businesses in the Northeast. We provide the public free access to information on over 85,000 businesses using consumer reviews, ratings, license information, BBB ratings, and insurance information. In addition, TotalHouseHold.com provides businesses with an array of online tools to help them market their company, increase their online presence, display their work, and acquire new business leads.
###