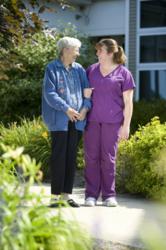 "A personal care home may be a good fit for active senior adults because it offers the right combination of support and independence," said Gayle Hummel, administrator of The Meadows, a personal care home owned and operated by Susquehanna Health.
Williamsport, PA (PRWEB) October 28, 2011
As one of the oldest states in the nation, it is no surprise that Pennsylvania ranks third highest in the country for its population of older citizens. As a generation of baby boomers begins reaching retirement age, Pennsylvania's Department of Aging has already established a plan to provide education and opportunities for these future seniors to assist them in aging gracefully. Although it may be a decade or more before the baby boomer generation requires the care provided through assisted living facilities (ALF) or personal care homes (PCH), Susquehanna Health's Administrator of The Meadows Gayle Hummel suggests now is a good time to begin researching options, especially for those who will be responsible for the care of aging parents.
"A personal care home may be a good fit for active senior adults because it offers the right combination of support and independence," said Hummel. A PCH is a good option to consider for an older adult who is no longer comfortable living alone because they fear for their safety, have difficulty maintaining their home, forget to take medicines, battle poor nutrition or have lost the care support they received from a friend or family member.
Choosing a PCH is an important task that requires some research. According to Hummel, some of the most important considerations can be broken down into the following categories:

Location. Search for a PCH in a community that is familiar or even close to home and activities or near family and friends. "One of the greatest amenities of The Meadows is its location," said Hummel. Established in the countryside of Montoursville, PA, The Meadows provides a peaceful location, spectacular view and a quarter mile walking path around the facility for seniors who enjoy spending time outdoors. Arranging a tour is the best way to determine whether a facility offers amenities that are necessary or desirable. It is also important for the PCH to be in relationship with or located near medical care facilities in the event of illness or emergency.
Certification. Personal care homes should be licensed or certified by the state in which they are located. In Pennsylvania, a PCH is required to post licensure in a public location along with a state inspection summary. The PA Department of Public Welfare conducts at least one annual inspection of each facility based on regulatory requirements which range from site conditions to resident health, safety and well-being.
Services. One of the most important services, especially for individuals with pre-existing health conditions, is the level of healthcare offered by the PCH. Ask for information about the qualifications of the facility's caregivers and the ratio of staff to residents. "A PCH that is connected to a health system offers residents better care options," explained Hummel. "The Meadows is supported by Susquehanna Health. As a result, there are many referral sources and services that we can provide." The highly trained staff at The Meadows includes medical caregivers, a recreational director, house doctor and personal care aids.
Other important considerations are the procedures the PCH has established to ensure safety, and services including meals and housekeeping. Find out how often meals are served, whether meals for special diets are available and if residents have input in the menu. Individuals who are socially or physically active may want to inquire about scheduled social activities and whether exercise classes or equipment is available.
Cost. The final and often most important consideration is cost, since the majority of personal care in Pennsylvania is paid for privately. When ready to discuss a contract, be sure it is clear which personal care services are included in basic fees and which are provided at an additional cost. According to Hummel, depending on the medical needs of the resident, the level of care may be the greatest expense. Medical care beyond the "flat rate" may cost an additional $15 to $20 more per day. It is also important to find out whether there is an option to modify or amend signed agreements should changes to the level care be necessary in the future.
Time invested in exploring a variety of senior housing options can help aging adults make wise decisions about their care and maintain independence while providing peace of mind for loved ones. For more information about Susquehanna Health's The Meadows, contact Administrator Gayle Hummel at 570-433-4663 or visit online at SusquehannaHealth.org.
About Susquehanna Health
Susquehanna Health is a three-hospital integrated health system including Divine Providence Hospital, Muncy Valley Hospital and Williamsport Regional Medical Center located in northcentral Pennsylvania. Serving patients from an 11-county region, Susquehanna Health is a healthcare leader and has been recognized at the national and state levels for quality of care. Susquehanna Health offers a wide array of services that include cancer treatment, heart and vascular care/heart surgery, neurosciences including neurosurgery, orthopedics, urology, OB/GYN, gastrointestinal services, behavioral health, physical rehabilitation, home care, long term care, assisted living and paramedic/ambulance services.
###