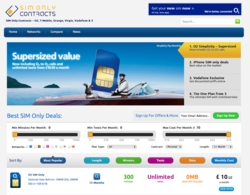 "We wanted to give users a more comprehensive way to search and compare plans across the vast range available on the market."
(PRWEB UK) 30 October 2011
Since 2008 http://www.SIMonlycontracts.co.uk has been providing price comparisons on pay monthly SIMs so that consumers can quickly identify the right deal without having to visit each individual network's site and tediously look back and forth to compare. Although the website started out with a basic, free template design it has recently taken steps to improve usability and design as well as to accommodate the growing trend of Smartphone and tablet usage.
Roshan Bholah the Director had this to say regarding the new design:
"We wanted to give users a more comprehensive way to search and compare plans across the range and so there are multiple points of entry packed with information and advice too.
"Using HTML5 and CSS Media Queries our web development team was able to tailor the site for Smartphones and tablets like the iPad and Galaxy Tab so that there is less need to pinch to zoom and text is readable from the initial load.
"The great thing about using this responsive web design based on Less Framework is only having to develop one website instead of a mobile site, desktop site, app etc. This minimised the project cost considerably."
Less Framework is essentially a CSS grid system that has multiple layouts that adjust to the width and the screen that it is being used on and additionally using graceful degradation across old desktop and mobile browsers.
The site also uses a considerably amount of AJAX which allows for swift and seamless modifications to the search results when filtering and sorting the SIM plans.
Roshan also said, "We are happy with the new design however will continue to make improvements where necessary to give our visitors an even better experience when using the site both in terms of design and customer service."
With the use of mobile devices now widespread and mobile e-commerce growing further, it is important to develop mobile friendly websites. Whether there is a separate site, app or CSS for the platform will ultimately depend on what's best for the company question but here we have an example of one that has used responsive web design as a simple yet effect method for providing a device specific experience.
About
SIM only tariffs are flexible 30 days to 12 months contracts that offer better value for money than tariffs on mobile phone contracts. You can compare plans on a variety of sites including http://www.simonlycontracts.co.uk, which provides comprehensive information on the networks and the best tariffs to buy. Using sliders, drop downs and sorting, this site makes it easy for consumers to compare and save on their monthly bills as well as bringing the latest promotions and offers to the forefront.
###