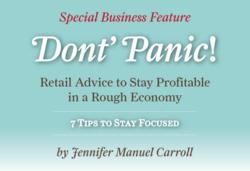 Jennifer's articles represent what the Lingerie Journal is all about - helping the lingerie industry succeed
New York, NY (PRWEB) October 31, 2011
Don't Panic! It's both the title and sound advice by retailer and author Jennifer Manuel Carroll whose latest retail advice column on the Lingerie Journal is designed to help retailers weather this tough economy with solid and actionable lingerie retail advice.
"When the economy is rough, which is still the case for so many businesses, retailers can make some pretty bad decisions. When we are not confident in the economy, our place in it, or our ability to earn a living, we begin making mistakes because we are making choices in panic mode," noted Carroll, owner of Bellefleur Lingerie Boutique. "Panicking is the worst thing you can do in your business. It can cause you to freeze up and make zero decisions, which is fatal. Or you can start making a lot of short-term, emotion-based decisions, which can be equally as devastating to you and your business. So, what do you do?"
The answers and advice are online now on the publication's website in the series' first two parts: http://thelingeriejournal.com/category/opinion-columns/jennifer-manuel-carroll-underneath-it-all/
"Jennifer's articles represent what the Lingerie Journal is all about - helping the lingerie industry succeed," said Luis Paredes, publisher of the Lingerie Journal. "She is a successful retailer with great advice and a great writer."
A life-long lover of lingerie, Jennifer Manuel Carroll has shopped for underpinnings during her travels in North America and Europe and is a savvy lingerie expert. After years of experience in the intimate apparel world, she was inspired to share her knowledge with others. Carroll is the author of Underneath It All, A Girl's Guide to Buying, Wearing and Loving Lingerie (Harlequin 2009), a comprehensive resource for the lingerie lover and novice alike.
The Lingerie Journal is the leading US-based online trade publication for the lingerie industry. In addition to the new print endeavor, the site also recently launched a wholesale lingerie directory. Paredes encourages lingerie companies to list themselves on the Lingerie Journal's upcoming wholesale lingerie directory. "It's free to register and you'll be part of a directory and website actively searched by wholesale buyers," he added.
Paredes also recently announced the Lingerie Journal will offer a print version of its popular online publication in 2012 to wholesale lingerie buyers and industry professionals.
###