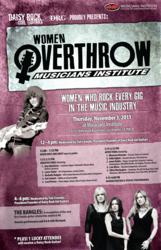 It's exciting to partner with Musicians Institute to create a unique meeting of the top minds in the music industry, made up entirely of women, to benefit up and coming female musicians!
~ Tish Ciravolo, President and Founder of Daisy Rock Girl Guitars
Los Angeles, CA (PRWEB) October 28, 2011
Daisy Rock Girl Guitars, the original girl guitar company, teams up with Musicians Institute, world leader in contemporary music education, to present the first annual Women Overthrow Musicians Institute event, a celebration of women who rock every gig in the music industry. Moderated by President and Founder of Daisy Rock Girl Guitars, Tish Ciravolo, the event will be held November 3, 2011, at the MI Hollywood campus located at 6752 Hollywood Blvd., Los Angeles, CA.
The unique and informative event will feature a panel of top female music industry professionals, beginning with a fun meet & greet, and is open to the general public. Topics to be shared include a wide variety of current interests and industry trends, ranging from marketing and social media engagement to artist discovery and management. Daisy Rock Girl Guitars encourages all aspiring musicians to attend and glean from today's industry leaders.
The industry panel includes: Amy Blackman (Cookman Management), Laura Taylor (Senior VP of Operations, Guitar Center), Rochelle Holguin (Senior Director of Creative Music Integration, MTV), Kat Corbett (KROQ), and Carol Peters (Peters Management). The artist panel include: Maureen Herman (bassist, Babes in Toyland), Kelly Ogden (vocalist/bass, The Dollyrots), Janet Robin (guitarist, Lindsay Buckingham, Precious Metal, Meredith Brooks, solo artist), Lola Blanc (vocalist/songwriter, solo artist), and Alicia Warrington (drummer, Kelly Osbourne, The All Girl Boys Choir, Hannah Montana, Gore Gore Girls).
"Early in my music journey, I only dreamed of events like this . . . to be able to pick the brains of the music pros," commented President and Founder of Daisy Rock Girl Guitars, Tish Ciravolo. "It's exciting to partner with Musicians Institute to create a unique meeting of the top minds in the music industry, made up entirely of women, to benefit up and coming female musicians!"
Also scheduled is a special acoustic performance by The Bangles, in recognition of the very first female guitar scholarship award at MI. A Q&A with the band will follow their performance.
For panelist bios, or for more information and schedule of events, visit http://4wrd.it/A.PRDR. RSVP by email: jennifer(at)daisyrock(dot)com.
ABOUT MUSICIANS INSTITUTE
Since 1977, Musicians Institute has been a world leader in contemporary music education, providing cutting-edge resources in its state of the art facilities located right in the heart of Hollywood, the capital of the world music industry. Its dynamic curriculum is current, comprehensive and compatible with the needs of students who not only desire to study music, but also build a career in the music industry with the knowledge they learn on-campus.
ABOUT DAISY ROCK GIRL GUITARS
Daisy Rock Girl Guitars is the original girl guitar company dedicated to successfully supplying and marketing professional quality guitars for females of all ages. All Daisy Rock guitars are designed specifically for the female form and feature lightweight bodies, "Slim & Narrow" neck profiles to better fit smaller hands, and are available in inspiring finishes. Daisy Rock Girl Guitars' ongoing mission is to do whatever it takes to help girls play guitar and enjoy music.
Daisy Rock Girl Guitars is led by its Founder and President, Tish Ciravolo. Ciravolo is a highly acclaimed expert on female empowerment and females in music. Tish's expertise has been immortalized by her induction into the Museum of Making Music, the world's premier museum showcasing the history of the music products industry, and she is widely regarded as a visionary in the industry. Ciravolo's deep insight into the subject of girl guitars and female empowerment has made her a sought after and frequent contributor on national and international television, newspapers, magazines, websites, and radio programs including People, Time, Newsweek, CNN, ABC, NBC, FOX, VH1, the Premier Radio Network, BBC Radio, and the Associated Press. Daisy Rock Girl Guitars is in over 25 countries worldwide, and is co-owned and distributed by Alfred Music Publishing.
# # #