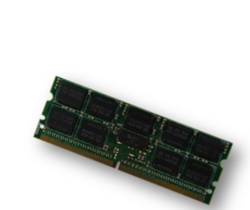 "We are excited to deliver this high density VLP MiniDIMM module with up to 8GB dual rank. ", said Phan Hoang, V.P of Research and Development at Virtium
Rancho Santa Margarita, CA (PRWEB) October 28, 2011
Virtium Technology, Inc., a solutions-driven designer and manufacturer of Industrial Memory and Flash Storage Solutions for Embedded and Telecommunication OEMs announced today its new and highly reliable 8GB VLP DDR3 Registered Mini DIMM module featured with low power (1.37v) design. Virtium's VLP DIMM Module utilizes state of the art technology which enables applications and systems to achieve consistently higher levels of performance with significant benefits in power consumption, space requirements and product life cycle durability compared to other industrial memory or low profile DIMM Modules.
The high density design of the new 1.35v module allows engineers and application designers to reduce total system operating costs associated with power requirements, while significantly improving the system capacity. These benefits are particularly important to OEMs complying with the U.S. Environmental Protection Agency's (EPA Agency) Energy Star Initiative energy saving requirements for data center AdvancedTCA Blades, Ethernet switches and routers.
Additional product enhancements for the DDR3 Mini-RDIMM include:

Availability of Thermal Heat-Spreaders
Industrial Temperature Screening of -40C to +85C
Conformal Coating
Under-Fill Protection with Thermal Sensor
ZQ Calibration Support
Fast Data Transfer Rates
Very Low Profile Module (18.29mm) PCB Height
ECC Error Detection / Correction Support
Nominal & Dynamic On-Die Termination (ODT)
Bi-Directional differential data-strobe
Eight internal Component Banks (Concurrent Operation)
Part Numbers:
8GB VL53B1G69E-K9S PC3-10600
8GB VL53B1G69E-F8S PC3-8500
8GB VL53B1G69E-E7S PC3-6400
The VLP RDIMM (Very Low Profile Memory) PCB design is paramount in meeting the minimal space and high performance requirements present in today's leading Embedded and Telecommunications Applications. The standardized VLP minidimm module height of 18.29mm makes the DDR3 Mini RDIMM an ideal industrial memory solution for mounting into a connector socket or edge mount for ultimate space savings in industrial OEM applications.
"We are excited to deliver this high density module in the VLP Mini-DIMM with up to 8GB dual rank. This high density, low power, low profile memory module design was based on Virtium's advanced component technology and testing", said Phan Hoang, V.P of Research and Development at Virtium. "With this high density and low power module, it provides significant advantage with respect to time-to-market and readiness for next generation OS such as windows 8."
The space and power savings benefits of the Industrial low profile DIMM Module are enhanced through optimized compatibility with a wide variety of Tier 1 ATCA and Switch Router application suppliers including Sandy Bridge, Intel and Cavium. Virtium's combination of low power design, high density module configuration and small form factor modules including the 1.35v 8GB VLP RDIMM are well suited for ruggedized applications which demand high reliability, tailored performance and multi-year life-cycle support. Product samples of the 8GB DDR3 VLP RDIMM Module are currently available and full production time is less than 4 weeks.
About Virtium
Virtium Technology is a solutions-driven designer and manufacturer of Industrial Memory and Flash Storage Solutions for Embedded and Communication OEMs. Virtium focuses on meeting the unique requirements of the Embedded Computing, Telecommunications, Networking, Storage, Military, Infotainment and Medical markets. Virtium combines first to market product solutions with continuity of support for legacy products in mature systems. Virtium's customers are Fortune 500 industrial OEMs who benefit from the combination of design services, life cycle management with complete BOM control and advanced PCN.
Virtium's Industrial Compact Flash Solutions are offered in a wide range of interfaces, density and form factors including Industrial Temperature CF, CFAST, SlimSATA, mSATA, eUSB, 1.8" SSD and SATADOM. Virtium's industrial memory modules encompass a wide range of densities and low profile form factors including DDR3 and DDR2 MiniDIMM, VLP Mini-DIMM, VLP RDIMM, VLP Registered Mini-DIMM, Mini DIMM, SORDIMM, ECC SO-DIMM, Mini-UDIMM and Mini-RDIMM, together with enhancements needed in challenging environments.
For more information, visit http://www.virtium.com or Follow on at http://www.Twitter.com/Virtium
###