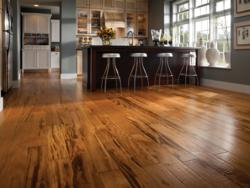 Coral Gables, FL (PRWEB) October 31, 2011
For those who are true connoisseurs of style, BR-111 unveils their Zinfandel Tigerwood engineered wood flooring for the kitchen. A dramatic flooring option that will delight even the most celebrated chefs! An inspired look that will have guests admiring the floor as well as the cuisine!
BR-111 takes traditional Tigerwood flooring and using an exclusive light scraping technique, adds amazing character and styles. A luxurious French bleed is added to each board to accentuate Tigerwood's beauty and unique grain variation -- the result is a luxurious look with a wildly sophisticated side.
If you're looking to create a dramatic kitchen décor consider the wow factor of adding the warmth and durability of exotic engineered wood flooring from BR-111. Wood floors add immediate style and sophistication creating a luxurious kitchen environment. And thanks to superior engineering and exceptional UV finish, BR-111 flooring is durable enough to withstand even the most challenging kitchen environments.
Shown is the wildly daring Zinfandel Tigerwood from the BR-111 Engineered Collection. BR-111 hand-scraped flooring features a beautiful slightly distressed look, very popular in today's high-end homes. Each plank is individually scraped, by hand, to create a unique finish that adds both warmth and character. Hand-scraped floors are also very practical as they help to better hide wear and blemishes in the flooring after years of use.
BR-111's new Zinfandel Tigerwood features a 5" board width with a ½" thickness and 12" – 71" board lengths. The engineered hand-scraped flooring is backed by a 35-year warranty.
###