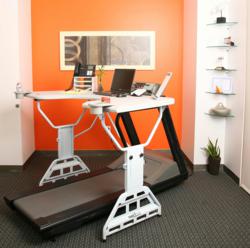 Scottsdale, AZ (PRWEB) October 28, 2011
A recent study published in the Archives of Ophthalmology conducted at the University of Wisconsin has confirmed that daily walking reduces the risk of macular degeneration when combined with a healthy lifestyle. TrekDesk treadmill desks offer a unique solution designed to improve health and prevent disease by encouraging daily walking.
Macular degeneration is the leading cause of blindness among older adults but research is proving that the disease is preventable.The observational study conducted by Julie Mares of the University of Wisconsin included 1,300 participants recruited from the Women's Health Initiative. Utilizing stereoscopic fundus photography age related macular degeneration (ARMD) was discovered in 202 of the participants. Comparing the presence of the disease with prior information tabulated by the Women's Health Initiative regarding diet, exercise and lifestyle issues, the researchers were able to draw their conclusions.
Women who were the most active registered a 54% lower risk of ARMD. Those who were most active and ate a healthy diet had a 71% decreased risk of developing ARMD. Mares and her colleagues believe that walking and proper diet contributed to reductions in blood pressure, inflammation and oxidative damage which would contribute to the preventative results.
Age related macular degeneration (ARMD) refers to a condition that shuts down the light sensitive cells located in the macula at the back of the eye. The condition decreases central vision and affects the quality of life.The Wisconsin study confirms a previous discovery published in the British Journal of Ophthalmology showing exercise alone reducing ARMD by as much as 70%.
"Walking on a regular basis prevents a multitude of health conditions, the challenge is convincing Americans to increase their alarmingly low levels of activity," stated Steve Bordley, CEO of TrekDesk Treadmill Desks.
Designed to fit any existing treadmill, TrekDesk is an affordable, full sized workstation that allows individuals the opportunity to gain the necessary amount of exercise daily to maintain health, prevent disease, strengthen muscles, boost mood and productivity, without requiring additional time during the day or extra motivation.
TrekDesk is currently available for sale online at TrekDesk.com for $479.00 including free shipping.
Join the TrekDesk "Movement Revolution" to learn more on TrekDesk's Facebook page.
###