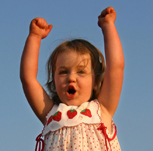 MyFear Zapper is the same approach counselors use one-on-one, with the addition of interactivity through technology.
Milford, OH (PRWEB) October 31, 2011
Clermont County, Ohio based Child Focus, Inc. serves over 5,000 children annually, providing services that include Mental Health therapy and case management services, Head Start and early learning programs, parenting education and support, and pre-school education. To enhance services provided to children experiencing anxiety, Child Focus is now using MyFear ZapperTM, a website-based, interactive program that helps children overcome normal childhood fears.
Dr. Laura Stith, Child Focus Chief Clinical Officer, believes the product will be a strong addition to the tools her staff uses to help children address a variety of issues. "MyFear ZapperTM is a great way to help children learn how to deal with fear," she says. "In fact, it's the same type of approach we would use one-on-one – but the addition of interactivity through a technology-based product adds to the appeal, and thus the effectiveness, of the approach."
While MyFear ZapperTM is an effective option for a parent addressing a standard child's fear, it is also useful in therapy situations. "One of the best things about MyFear ZapperTM is its flexibility," Stith feels. "It's perfect for children dealing with standard childhood fears, such as fear of the dark or monsters under the bed, but it is also a powerful way to help children who are dealing with more serious issues."
Child Focus serves youth at their offices in Cincinnati, Ohio, as well as at over 70 locations including schools and foster homes throughout Clermont County. Since the psychologists, counselors and nurses at the agency see children from broken homes, those living in foster care, and those with many other issues, having a tool such as MyFear ZapperTM is a huge help. As Stith says, "We are excited because we feel MyFear ZapperTM can help us reach these children more quickly and in an entertaining manner. These kids can use some laughter in their lives, and MyFear Zapper's animation and games help make the healing process more fun."
MyFear ZapperTM is a website-based program that helps children learn their minds are more powerful than their fear. Success rate is 90% among children who have had their fears 18 months or less. It works after just a few uses, sometimes after the first use. In addition to addressing immediate fears, MyFear ZapperTM teaches children techniques they can apply to future situations, building long-term self-confidence and the ability to face new situations with assurance.
MyFear ZapperTM is available for a monthly subscription at myfearzapper.com.
###