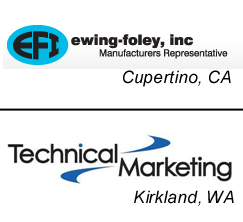 Both TMI and Ewing-Foley offer the kind of technical expertise needed to represent Reell technology. They are outstanding partners.
Saint Paul, MN (PRWEB) October 31, 2011
Reell Precision Manufacturing, a world leader in small package position control, is pleased to announce two new partnerships to market it's patented friction hinge products and technology.
Beginning immediately, Ewing-Foley, Inc.(EFI) of Cupertino,CA and Technical Marketing Inc.(TMI) of Kirkland, WA will be representing Reell in the Western United States and Canada.
Founded in 1967, Ewing-Foley is one of the premier manufacturers representative sales organizations in Northern California. They bring a strong technical sales expertise and full service sales and marketing capabilities to the companies they represent. Ewing-Foley has 65 technical sales associates working out of company owned facilities in Cupertino, CA, Auburn, CA., Tigard, OR, and Kirkland, WA. They will represent Reell in Northern California and Northern Nevada.
Founded in 1987, Technical Marketing Inc. represents firms that offer mechanical and electro-mechanical engineered solutions designed to solve customers' engineering requirements. In addition to a strong technical selling capability, they offer distribution, warehousing, value added, and auto replenishment services. With locations in Kirkland Wa, Spokane, WA, Beaverton, OR and Denver, CO, TMI will represent Reell in the Northwestern US and Western Canada.
VP of Global Marketing Jack Field really likes both organizations, "we are very pleased that Ewing-Foley and TMI have joined the Reell sales and marketing team. Both organizations offer the unique combination of strong technical expertise and relational selling capability needed to promote Reell products. Furthermore, they have a strong market knowledge and are responsive to customer needs, making them outstanding partners to represent Reell. "
Reell Precision Manufacturing provides high-quality innovative solutions to transmit torque, control angular position and protect delicate components from excessive force. Combining the worlds most precisely controlled torque technology with the industry's most experienced engineering team provides a perfect product fit in customer applications. Reell's patented technology is widely used in the consumer electronics, automotive, office automation, and medical industries.
Follow Reell on twitter: @reell
###