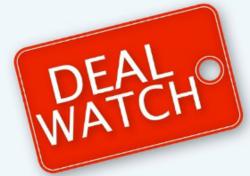 Milwaukee, WI (PRWEB) October 28, 2011
Milwaukee ranks number one in coupon use, according to Scarborough Research, JSOnline reported in a recent article. About 45 percent of households in the ten-county area clip or download coupons for groceries, the article states. That's significantly higher than the national average 32 percent.
DealWatch, JSOnline's group deal buying platform was recently upgraded, making it easier and more fun for Milwaukee coupon seekers to find the best deals in entertainment, dining, health and salon services.
The DealWatch upgrade comes just in time for the holidays.
"Purchasing a coupon from DealWatch is a great way to give a gift you might not have been able to otherwise afford," said Aaron Toynton, Journal Interactive's Digital Operations Director.
DealWatch's current Milwaukee offers include one-hour massages, concert tickets and local restaurant coupons, all at least 50 percent off the original price.
"DealWatch is also beneficial from a business standpoint because it attracts people who are visiting JSOnline for purposes other than coupon hunting," Toynton said. "There's a better chance the people who purchase these deals will become repeat customers."
The DealWatch program offers local businesses over $17,000 of free exposure including a daily email blast to over 100,000 recipients, front-page promotion on JSOnline, MilwaukeeMoms and CommunityNOW sites, Facebook and Twitter presence and print promotion in the Milwaukee Journal Sentinel.
Business need a boost? Secure a spot in Milwaukee's best deal program today by calling 414-225-5075.
Looking for exciting things to do in Milwaukee? Purchase Milwaukee deals including dining, massage, martial arts and photography coupons at jsonline.com/dealwatch.
# # #