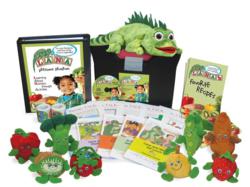 Owatonna, MN (PRWEB) October 31, 2011
We don't know who gave vegetables such a bad rap, but according to a recent story from CBS Minnesota, kids at Kinderberry Hill Child Development Center in Roseville, MN are changing that with the LANA Preschool Program distributed by Learning ZoneXpress.
LANA stands for "Learning About Nutrition through Activities." It is a 24 week research-based program developed by the Minnesota Department of Health and the University of Minnesota. For multiple years, teachers and students have been exploring this program which includes a fun hand puppet of the program's mascot, Lana the Iguana. This is an exciting way to get kids thinking about health and nutrition, both by tasting fruits and vegetables and creating easy recipes.
We all know there's nothing worse than a picky eater, and LANA can remedy that. The iguana gets kids excited about fruits and vegetables and encourages them to try foods they may have never dreamed of!
The program encourages parents to try these foods with their kids. Children tend to be more willing to explore when others are doing the same right beside them. Learning ZoneXpress distributes the complete LANA curriculum filled with fun activities, recipe books, and story books that parents, teachers and kids can all do together!
The program being implemented in child care centers like Kinderberry Hill makes it easier for parents at home to continue these fun and healthy practices. And LANA doesn't have to be just for kids. It's been known to teach us a thing or two as well.
Owatonna, Minn.-based Learning ZoneXpress is a leading source of award-winning teaching tools. Its mission is to help improve the health and vitality of children by providing relevant, creative and affordable learning tools about life skills, healthy behaviors and nutrition. Learning ZoneXpress offers a wide variety of affordable educational DVDs, posters, MyPlate products, prizes, and PowerPoint presentations. They are dedicated to responsive and personalized customer care. For more information about Learning ZoneXpress products, visit http://www.learningzonexpress.com or call Toni Gnasdoskey at 888-455-7003.
###