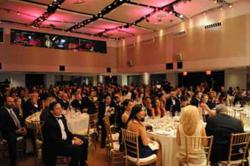 Reading the list of the Winners of the 2011 World Technology Awards is like sneaking a peek at the future. Ever wonder who is creating this century? Its these people and companies.
New York, NY (PRWEB) October 30, 2011
Who are 2011's top innovators in science, technology, and related fields? Who is doing the work that is changing the world? The World Technology Network ("The WTN") has announced the names of the Winners in 10 corporate and 20 individual categories for the prestigious World Technology Awards. (See the full list below). Presented by the WTN in association with TIME, Fortune, CNN, Science/AAAS, Technology Review and others, the World Technology Awards have been called "the Oscars of the technology world" in part because of their peer-review selection process. The Winners join the WTN membership -- a roster of organizations (Corporate Members) and individuals (WTN Fellows) from over 60 countries around the world. (Awards were presented in the following categories: The Arts, Biotechnology, Communications Technology, Design, Education, Energy, Entertainment, Environment, Ethics, Finance, Health & Medicine, IT-Hardware, IT-Software, Law, Marketing Communications, Materials, Media & Journalism, Policy, Social Entrepreneurship, Space.) Taken all together this winners list is an amazing snapshot of the global revolutions in science and technology that are re-shaping our world.
The World Technology Awards have been presented by the WTN since 2000, as a way to honor those in 20 different categories of science and technology and related fields doing "the innovative work of the greatest likely long-term significance." The annual World Technology Awards process is an intensive global one, lasting many months. The Award nominee pool this year of over 600 nominees came from three sources: names put forward by the WTN Fellows (winners and finalists from previous annual Award cycles in the individual Award categories); research by the WTN staff; and, to a lesser extent, from nominations from individuals and companies themselves.
Finalists for the Awards were selected by the WTN Fellows who are eligible to vote for their top five preferences in order from within their own category. The collective preferences of the WTN Fellows determine the Finalists. The new Finalists then became the latest group of WTN Fellows (for individuals) and WTN Corporate Members (for organizations). The Winners were selected from among the Finalists with the input of a select group of prominent Advisors and were announced at a ceremony in the United Nations Delegates Dining Room on October 26th.
The Advisors for 2011 were:
Ray Kurzweil, inventor/futurist/author
Albert Teich, Senior Policy Advisor, American Association for the Advancement of Science/AAAS
Jason Pontin, Editor/Publisher, Technology Review
Lev Grossman, Senior Writer and book critic, TIME; co-author TIME.com blog "Techland"
The new WTN Fellows and Corporate Members were officially inducted into the WTN membership at a gala ceremony at the United Nations, where, as mentioned, the Winners were announced. The Awards gala occurred at the close of the World Technology Summit, a two-day "thought leadership" conference (Oct. 25/26) in the TIME & LIFE Building in association with the WTN's partner organizations. Most of the delegates to the Summit were 2011 Award nominees, current WTN members (winners and finalist from previous Awards cycles), as well as other leaders from business, technology, and industry.
"This year we are more eager than ever to pay tribute to the talent and innovation of our individual and corporate honorees." says James P. Clark, Founder and Chairman of the World Technology Network. "Each year, with the participation of our extraordinary membership and the help of our sponsors and partners, we strengthen this platform to honor the most visionary and impactful contributions in the science and technology arenas." Clark adds "The World Technology Awards program is not only a very inspiring way to identify and celebrate the most innovative people and organizations in the technology world, but it also is a truly disciplined way for the WTN membership to identify those who will formally join them, as WTN Fellows and Corporate Members, as part of our global community. These are the people creating the 21st Century. By working to make connections among our members, we look forward to assist in a truly positive way in continuing to help determine our collective future and change our world."
About the WTN
The WTN is a curated membership community comprised of the world's most innovative individuals and organizations in science, technology, and related fields. The WTN and its members - those creating the 21st century -- are focused on exploring what is imminent, possible, and important in and around emerging technologies.
The WTN exists to "encourage serendipity" -- the happy accidents of colliding ideas and new relationships that cause the biggest breakthroughs for individuals and institutions. The WTN works to accomplish its mission through global and regional events for its members and extended audience, to help make connections among them, and to examine the likely implications and possible applications of emerging technologies.
For more information about the World Technology Network (and to find out how to sign up for the video webcast on demand to the view this year's Summit & Awards), please visit: http://www.wtn.net
The Winners of the 2011 World Technology Awards

Marco Tempest, Technoillusionist
contact: tempest(aT)newmagic(dot)com
Biotechnology (Corporate)
Celgene Corporation
contact: Brian Gill, bgill(at)celgene(dot)com
Biotechnology (Individual)
James J. Collins, Investigator and University Professor of Biomedical Engineering, Howard Hughes Medical Institute and Boston University
contact: jcollins(at)engc(dot)bu(dot)edu
Communications Technology (Corporate)
Skype
contact: Jacqueline Botterill, jacqueline(dot)marshall(at)skype(dot)net
Communications Technology (Individual)
Gabriel Charlet, Researcher, Bell Labs, Alcatel-Lucent
contact: Wendy Lipshultz, wendy(dot)zajack(at)alcatel-lucent(dot)com
Alexandra Daisy Ginsberg, Designer/Artist/Writer
contact: hello(at)daisyginsberg(dot)com
Mitchel Resnick, LEGO Papert Professor of Learning Research and Head of the Lifelong Kindergarten Group, MIT Media Lab
contact: mres(at)media(dot)mit(dot)edu
Aquion Energy
contact: Quelcey Kogel, qkogel(at)aquion-energy(dot)com
Xin Zhao, Materials Scientist, Thomas Jefferson National Accelerator Facility (Jefferson Laboratory) &
Rod Ruoff/Meryl Stoller, Ruoff Research Group, University of Texas at Austin
contact: xinzhao(at)jlab(dot)org, r(dot)ruoff(at)mail(dot)utexas(dot)edu
Kati London, Director of Product, Zynga
contact: Ashley Lipton, alipton(at)zynga(dot)com
Airdye Solutions
contact: Paul Raybin, p(dot)raybin(at)colorep(dot)com
Ann Hand, CEO, Project Frog
contact: Nikki Tankursley, nikki(at)projectfrog(dot)com
Paul Root Wolpe, Asa Griggs Candler Professor of Bioethics/Director, Center for Ethics, Emory University
contact: pwolpe(at)emory(dot)edu
Band of Angels
contact: Ian Sobieski, ian(at)bandangels(dot)com
Esther Dyson, CEO, EDventure Holdings
contact: edyson(at)edventure(dot)com
Health & Medicine (Corporate)
Second Sight Medical Products
contact: Brian Mech, bmech(at)2-sight(dot)com
Health & Medicine (Individual)
Anthony Atala, Director, Wake Forest Institute for Regenerative Medicine, Wake Forest Baptist Medical Center
contact: Karen Richardson, krchrdsn(at)wakehealth(dot)edu; Yvonne Bunker, ybunker(at)wakehealth(dot)edu
Apple
contact: Lauren Vroom, lvroom(at)apple(dot)com
Steve Teig, Co-Founder, Tabula, Inc.
contact: Sabrina Joseph, sabrina(at)morphoses(dot)com
Amazon
contact: Leslie Letts, letts(at)amazon(dot)com
IT-Software (Individual),
Otavio Good, Co-Founder, Quest Visual, Inc
contact: otaviogood(at)questvisual(dot)com
Arti K. Rai, Elvin R. Latty Professor of Law, Duke University
contact: rai(at)law(dot)duke(dot)edu
Aedhmar Hynes, CEO, Text 100 Public Relations
contact: Jeff Cleveland, Jeff(dot)Cleveland(at)text100(dot)com
3M
contact: Glenn Carter, gacarter1(at)mmm(dot)com; Colleen Harris, cahornharris1(at)mmm(dot)com
Andrew Barron, Welch Chair of Chemistry/Professor of Materials Science, Rice University
contact: Jade Boyd, jadeboyd(at)rice(dot)edu
Athar Osama, Publisher/Editor/Columnist, Muslim-Science.Com
contact: athar(dot)osama(at)gmail(dot)com
Alex Dehgan, Science and Technology Adviser to the Administrator, US Agency for International Development (US AID)
contact: alexdehgan(at)gmail(dot)com
Howard Weinstein, Social Entrepreneur, Solar Ear
contact: howard(at)solarear(dot)com.br
SpaceX
contact: Kirstin Brost Grantham, Kirstin(at)spacex(dot)com
Gwynne Shotwell, President, SpaceX
contact: Kirstin Brost Grantham, Kirstin(at)spacex(dot)com
###