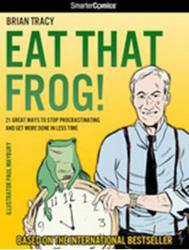 Microstyling is how many young adults read today. Much like a text message or Twitter update.
(PRWEB) October 28, 2011
'Eat That Frog' by Brian Tracy is a motivational book focusing on the habits of procrastinators. 'Eat That Frog' highlights the main reasons people procrastinate in a simple, efficient manner. Tracy avoids delving deep into the psyche of chronic procrastinators, and instead takes a direct approach in encouraging readers to face their tasks head on, get organized and develop and maintain better habits that focus on priorities.
Tracy uses the word 'frog' as a metaphor that represents the one task or chore someone is avoiding. He maintains that if there is a task that is being dreaded, people tend to put all of their energy into completing smaller, less important tasks. This leads many people to mistake activity with accomplishment, which can hinder their prospects for personal and professional success.
'Eat That Frog' offers motivation by breaking down the steps readers need to follow to stop procrastinating and start producing. By utilizing to-do lists, readers are challenged to eat their frog, or rather, tackle their biggest and most averted items, first. The idea behind this is that no matter what happens to you that day, it can't be any worse than the frog you already ate. After accomplishing such a feat, readers will be motivated to tackle the rest of their to-do list, without lingering or wasting time on activities, since there is nothing left to dread. The result is higher productivity in many aspects of one's life, and better chances of succeeding in future endeavors.
These strategies have made 'Eat That Frog' one of the best selling business books for many years. Now, the original 128 page book has been transformed into a digital comic book. SmarterComics has taken the original book and applied comic-style graphics and microstyled text to create a shorter, fun to read comic book for a new generation of readers.
"Microstyling is how many young adults read today. Much like a text message or Twitter update, Microstyle grabs someone's complete attention in order to quickly and effectively communicate a concept or an idea. SmarterComics are well suited for a younger generation of readers, due to the fact that we are communicating with them in the same way that many of them communicate with each other," said Mike Oliveri, Scriptwriter for SmarterComics (http://smartercomics.com/).
SmarterComics produces high-quality comic books that are based off of business books. The shortened versions take most readers less than an hour to read while conveying the important messages from the original books.
'Eat That Frog' from SmarterComics conveys all of the pertinent information from Tracy's original version, such as:

How to resist the urge to start with easier tasks, and focus on the positive outcome of handling the biggest challenges first
Understand the differences between activity and accomplishment, and how to actively accomplish goals
Learn organizational and time management skills as well as how to apply them effectively
Readers can instantly download 'Eat That Frog' from SmarterComics onto their Android phone for $4.99. As a bonus, everyone that downloads 'Eat That Frog' will also receive a free Android download of Sun Tzu's 'The Art of War' from SmarterComics.
Fans can download this eBook and many more at: http://smartercomics.com/EatThatFrog
About SmarterComics:
SmarterComics is a technology driven publishing company based in the Silicon Valley that turns bestselling books into comic books - comics that make you smarter!
The company's award winning illustrators bring talent from prestigious comic companies including Marvel and DC Comics, lending a rich graphical style to the SmarterComics library. Many of their scriptwriters and editors have won awards that are equivalent to the Oscars in the comic genre: the Eisenhower and the Harvey Awards.
###