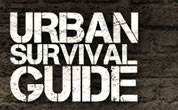 With a well thought out preparedness plan, you can be ready for disasters ranging from unexpected short term unemployment to catastrophic events, so focus on the fundamentals and you'll be ready
Austin, TX (PRWEB) October 31, 2011
Lamplighter Publishing, LLC, the leader in urban survival, wants to spread the word that October is Fire Safety Month. According to the Fire Protection Association, almost 400,000 homes burn down each year. Many fires can be avoided with the proper precautions.
David Morris, an expert in disaster preparedness, said in a statement that "fire disaster preparation is one of the most overlooked hazards plaguing modern society. People think they're immune to fire because they have a fire alarm, but they don't realize that they can be quickly overwhelmed by a fire in the home." David recommends calling the fire department for any fire situation whether large or small, making sure the correct fire extinguisher is selected in case of fire, and following an evacuation plan.
David also states that "prevention is the key when it comes to firefighting." Suggesting that people know where the fire extinguishers are kept, and that they take preventative steps by doing such things as "keeping storage and working areas free of trash," not overloading wall outlets, and repairing old wiring, worn insulation and broken electrical fittings immediately.
Lamplighter's website, SecretsOfUrbanSurvival.com, provides an abundance of information dedicated to urban survival situations. Secrets of Urban Survival allows visitors to access its free Urban Survival Mini Course. This course covers fire survival, hurricane preparation and other disaster scenarios. The site is also updated weekly with tips from David Morris outlining issues that people should be prepared for and how to best get prepared.
David Morris recommends not only preparing for fire, but preparing for any possible disaster. David says, "With a well thought out preparedness plan, you can be ready for disasters ranging from unexpected short term unemployment to short term natural disasters to catastrophic events like a collapse of the dollar, so focus on the fundamentals and you'll be ready for WHATEVER disaster happens."
Another website that Lamplighter offers to help prepare people for disasters is located at http://www.SurviveInPlace.com. This website is dedicated to teaching individuals and families the secrets of urban disaster survival. With wildfires ravaging homes in Texas and other parts of the US, the strategies in the Urban Survival Course resources could save numerous lives.
David Morris believes that proper situational awareness will allow people to assess the danger and react to fires that might threaten their homes and lives. David is convinced that with proper preparation and knowledge, fires that occur naturally or from human accidents can be mitigated appropriately.
For more fire safety and general disaster preparedness information, consumers may visit one of Lamplighter's in-depth websites: http://www.SurviveInPlace.com, http://www.SecretsOfUrbanSurvival.com, http://www.UrbanSurvivalGuide.com or http://www.40DaysOfSurvival.com. Each of these sites is dedicated to helping individuals prepare for disasters.
About Us: Lamplighter Publishing, LLC is dedicated to helping individuals prepare for disasters that occur in urban areas. The company provides a number of different information products that teach people how to prepare and survive disasters such as fires.
###