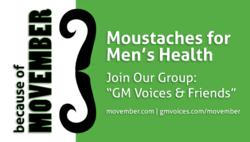 Alpharetta, Ga. (PRWEB) October 31, 2011
Things are about to get hairy for GM Voices, a worldwide provider of professionally-recorded voice prompts for automated phone and in-car technologies. The Atlanta-area firm is participating in Movember, a month-long moustache growing event to raise awareness and funding for men's health issues like prostate cancer, testicular cancer and depression.
GM Voices' unquestionably itchy, hopefully successful campaign seeks the participation of other moustache-friendly businesses to blanket the city with the finely-groomed whiskers of brotherhood. The elegant facial accessories serve as furry billboards for this good cause.
"Women's health issues, especially breast cancer, have more visibility than men's health issues," said Matt Strach, Brand Manager at GM Voices. "The NFL, for example, is just wrapping up a month-long 'Think Pink' event in partnership with the American Cancer Society. Movember seeks to bring men's issues to the fore in the same way, only with a far superior style."
Movember was conceived in Adelaide, Australia in 1999, and the Movember Foundation charity has expanded outside Oceania into the US, UK, Ireland, Canada and Spain since 2004. Charities supported include the Prostrate Cancer Foundation, LIVESTRONG and the Movember Foundation.
To participate in Movember, men (Mo Bros) must be clean shaven on October 31. They then grow their moustaches continuously through November, waxing and grooming to taste. Goatees are not allowed, and the "mo" must stand proudly independent from the sideburns.
GM Voices is asking its friends and business contacts to join in by sending their best Movember photos to movember@gmvoices.com. The "Mo of Righteousness"—the single best flavor saver—will win an electric groomer. The Movember Foundation also awards numerous prizes for fundraisers and best-in-class moustaches.
For Movember, GM Voices will make a donation to the cause. Participants will also give personally. Marcus Graham, CEO of GM Voices, and himself a prostate cancer survivor, welcomes this manly endeavor, though he usually prefers a goatee.
"This is an issue near and dear to me and many of my peers, both friends and business contacts. Research, advocacy and survivorship programs for men's health issues are all worthwhile, and my moustache and I are just trying to do our part."
Men who wish to look "Sellecky" for a month, and women (Mo Sistas), are encouraged to visit http://www.movember.com and http://www.gmovices.com/movember for details on the global event and trimmer promotion, respectively.
About GM Voices
Since 1985, GM Voices, Inc. has emerged as the global leader in professionally‐recorded voice, language localization, persona development and Voice Branding solutions for Fortune 1000 corporations worldwide. Dozens of voice actors record in their studios each week, providing clients a consistent voice for any application. More than 100 languages and dialects are offered. GM Voices invented the term and concept of Voice Branding, a single‐voice customer experience consistent with a company's brand image. For more information, visit http://www.gmvoices.com.
###