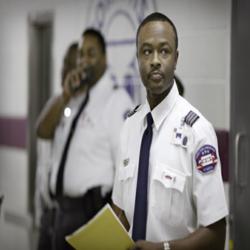 CCA is proud to continue serving the FBOP with a cost effective solution at McRae and maintain the careers of our correctional team," said Tony Grande, CCA Chief Development Officer. "We also thank the greater Telfair County community for their support.
Nashville, TN (PRWEB) October 28, 2011
CCA, America's leader in partnership corrections, is proud to announce a new long-term contract with the Federal Bureau of Prisons (FBOP) for the expansion and continued management of the McRae Correctional Center.
The agreement, which follows a competitive bidding process, calls for an expansion at McRae that will enable the facility to house up to 2,275 male inmates. The expansion will generate short-term construction jobs and continued workforce stability for the facility's professional correctional staff.
"CCA is proud to be able to continue serving the FBOP with a cost effective solution at McRae and maintain the careers and livelihoods of our correctional team," said Tony Grande, CCA Executive Vice President and Chief Development Officer. "We've been a part of the community for more than ten years and we want to thank the McRae and greater Telfair County community for their strong support throughout this process, which was a valuable component to our successful bid."
The new FBOP four-year management agreement contains three, two-year renewal options, enabling CCA to provide services at McRae through the year 2022.
"CCA McRae has an outstanding track record of operating a secure facility for both the inmates entrusted to our care and for the citizens of McRae," said Ron Thompson, CCA Vice President of Operations. "This renewal is a testament to the dedication and hard work of our team at McRae, who I know look forward to sustaining our track record of outstanding performance and safety at the facility."
As correctional systems across the nation face a number of convergent challenges including rising costs, high recidivism rates and overcrowding, CCA remains a dedicated and dependable partner with governments at all levels, working hard to find practical solutions.
About CCA McRae
Located in McRae, Georgia, CCA McRae Correctional Facility houses an all male minimum-security inmate population for the Federal Bureau of Prisons (FBOP). CCA McRae, which has been company owned and managed since 2000, is independently accredited by the American Correctional Association (ACA) – the national gold standard for professional correctional management.
About CCA
CCA is the nation's largest provider of partnership corrections to federal, state and local government, operating more than 60 facilities, including more than 40 company-owned facilities, with approximately 90,000 beds, in 20 states and the District of Columbia. In addition to providing the residential services for inmates, CCA facilities offer rehabilitation and educational programs, including education, vocation, religious services, life skills and employment training and substance abuse treatment. For more information, visit CCA.com and CCAcommunities.
Forward-Looking Statements
This press release contains statements as to our beliefs and expectations of the outcome of future events that are forward-looking statements as defined within the meaning of the Private Securities Litigation Reform Act of 1995. These forward-looking statements are subject to risks and uncertainties that could cause actual results to differ materially from the statements made. These include, but are not limited to, the risks and uncertainties associated with: (i) general economic and market conditions, including the impact governmental budgets can have on our per diem rates, occupancy and overall utilization; (ii) fluctuations in our operating results because of, among other things, changes in occupancy levels, competition, increases in cost of operations, fluctuations in interest rates and risks of operations; (iii) our ability to obtain and maintain correctional facility management contracts, including as a result of sufficient governmental appropriations and inmate disturbances; (iv) changes in the privatization of the corrections and detention industry, the public acceptance of our services, the timing of the opening of and demand for new prison facilities and the commencement of new management contracts.
CCA takes no responsibility for updating the information contained in this press release following the date hereof to reflect events or circumstances occurring after the date hereof or the occurrence of unanticipated events or for any changes or modifications made to this press release.
###