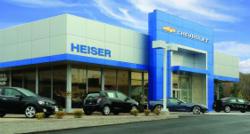 Milwaukee, WI (PRWEB) October 28, 2011
Bigger is better—and more comfortable at Heiser Chevrolet in West Allis. The Greater Milwaukee Chevy dealership is reopening its doors after a major remodel and expansion and is celebrating by giving away the choice of a three-day, two-night trip to Las Vegas or 37" flat screen HD television with the purchase of a new vehicle through November 12, 2011. Those who purchase a new truck have the additional option of a free bed liner.
"We are incredibly pleased with the new Heiser Chevrolet in West Allis," said Mary Ann Scaffidi, one of the Heiser family owners. "Everything has been designed with the customer in mind, and I know everyone's going to love the extra space and comfort that we've added. It's simply beautiful."
The redesigned Milwaukee Chevrolet dealership offers a more spacious showroom that features new customer service areas, a bigger, more relaxing customer lounge with comfortable seating and faster complementary WiFi service and 50" flat panel televisions everywhere.
"We listened to our customers, and designed a more inviting and comfortable environment for shopping or just relaxing while their vehicles are being serviced" said Dave Van Engen, Director of Advertising and Marketing at Heiser Automotive Group."
Heiser employees are renowned for working hard to build and maintain long-term relationships with their customers instead of conducting one-time transactions. All customers are treated with integrity and care, and the company is in constant communication with customers to discover and execute on improvement opportunities.
"While other dealers play games and force buyers to haggle for the lowest selling price, Heiser proudly presents upfront pricing on-line for all to see," said Van Engen. "We take the stress out of the buying process to make it more enjoyable for our customers."
For more information about the Grand Opening or any of Heiser Chevrolet's products and services, call (888) 489-3535, go to heiserchevrolet.com, or drop by the suburban Milwaukee Chevy dealership located at 10200 West Arthur Avenue in West Allis, Wisconsin.
About Heiser Chevrolet
Heiser Chevrolet is a Greater Milwaukee Chevrolet dealership that sells Ford, Lincoln Mercury, Toyota, Scion, Chevrolet and Cadillac vehicles. The West Allis new car and used vehicle leader is Wisconsin's longest and most successful established automobile dealership group.
Heiser was co-founded in 1918 by Walter Heiser. The original dwelling, located on 7th and Wisconsin Avenues, sold Model T Fords for $345. People traded in their carriages, wagons, even horses towards the purchase of their first car.
###