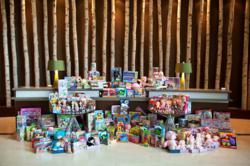 In addition to being an official donation collection site, hotels are collecting spare change and offering $1 Train Cutouts, available for purchase by guests to donate to Toys for Tots.
Santa Monica, CA (PRWEB) October 31, 2011
Windsor Capital Group today announced its 22 hotels across the United States will again serve as official collection sites for this holiday season's Toys for Tots drive. Toys for Tots, which is run by the US Marine Corps Reserves, collects and distributes toys to children in need. Each hotel will be a designated drop off site for the local chapter of Toys for Tots.
Windsor Capital Group, based in Santa Monica, California, owns and operates 22 hotels throughout the United States with its hotel management company Windsor Management Services. The company issued a challenge to all its employees to nominate a charity that all 22 hotels could support to help give back to local communities during this economically challenged environment. Toys for Tots was selected in 2010 and it is now one of the company's official annual charities.
"Finding a present under the tree on Christmas morning is an experience every child deserves," said retired Marine Major Bill Grein, Vice President of the Marines Toys for Tots Foundation. "For the past two years Windsor Capital Group has certainly done its fair share to help us bring that joy to children whose families have suffered so much. This has been an especially difficult year to raise funds and toy donations, so to have Windsor Capital Group's support once again is a real godsend."
In 2010, Windsor Capital Group and its hotels collected more than 2,400 toys and $3,800 in spare change and donations which were donated to Toys for Tots.
In addition to being an official donation collection site, hotels are collecting spare change and offering $1 Train Cutouts, available for purchase by guests to donate to Toys for Tots.
"This is one small way we can contribute and give back," said Bill Upshaw, President and COO of Windsor Capital Group. "We are encouraging our employees to contribute and in return our General Managers at each hotel will thank employees who donate with a token of appreciation such as a pizza party or raffle giveaway."
"We are also conducting a toy drive at our corporate office in Santa Monica to show our support," said Craig Stechman, Senior Vice President of Sales and Marketing. "We are happy to find a way to give back to the communities in which our hotels serve."
The mission of the US Marine Corps Reserve Toys for Tots Program is to collect new, unwrapped toys during October, November and December each year, and distribute those toys as Christmas gifts to needy children in the community in which the campaign is conducted.
The objectives of the Toys for Tots organization are to help needy children throughout the United States experience the joy of Christmas; to play an active role in the development of one of our nation's most valuable natural resources - our children; to unite all members of local communities in a common cause for three months each year during the annual toy collection and distribution campaign; and to contribute better to communities in the future. Visit http://www.toysfortots.org for more information and additional ways to support this great cause.
For more information, including a list of all 22 Windsor Capital Group hotels participating in the annual drive, visit http://www.WCGHotels.com/toysfortots.
ABOUT WCG Hotels
Windsor Capital Group (WCG Hotels) is a hotel management and development company that owns and operates full-service, focused, upscale branded hotels throughout the United States, with most flying the Embassy Suites and Marriott flags. It also runs Windsor Management Services, a top-performing hotel management company that customizes hotel management services to meet the needs of the properties.
With more than 30 years of experience to call on, Windsor Management Services is known for unmatched results for its owners and unparalleled service for its guests delivered with a personal connection.
For more information visit http://www.windsormanagementservices.com or http://www.wcghotels.com. Additionally, please contact Bill Upshaw, President & Chief Operating Officer or Craig Stechman, Senior Vice President of Sales & Marketing at 310-566-1100.
###