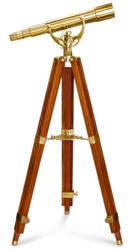 Anchomaster series features classically styled brass telescopes, brass spy scopes and opera glasses
La Verne, California (PRWEB) October 29, 2011
Barska Sport Optics, a leading manufacturer of telescopes, binoculars, and optical products has newly designed a line of brass telescopes called Anchormaster series. The Anchomaster series features classically styled brass telescopes, brass spy scopes and opera glasses. The reminiscent antique telescope style takes one back to a time of tall ships and pirates. There's nothing that expresses classic elegance and traditional sophistication more than brass scopes with elegant mahogany accents. A focal piece in any elegantly decorated room, Barska Anchormaster scopes make a great gift for the holidays.
Anchormaster brass telescopes feature high quality construction, brilliantly clear optics and elaborately detailed polished brass with mahogany finish tripods. Anchormasters are available in two large telescope models, the 36 power 90080 (AE10824) and 28 power 70060 (AE10822). These precision-made, high quality brass telescopes make a stunning addition to any astronomer's décor. Beautifully designed and fully functional these brass telescopes will enhance the users' view of the night sky. Designed with fully coated achromatic lenses, the Anchormaster telescopes provide a brilliant image. Structured in a refractor design, the anchor master telescopes come equipped with a 45 degree erecting diagonal for upright images of land viewing. These telescopes are ideal for celestial viewing of planets and terrestrial viewing of beautiful cityscapes.
The Anchormaster connoisseur collection of brass spy scopes feature elegant precision brass scopes in mahogany floor standing models and hand held collapsible models. The handheld 18x50mm collapsible brass spy scope is designed with the classic style of a vintage nautical scope that could be found on a 17th century Spanish galleon. This handheld model extends for viewing and collapses for storage in an elegant mahogany storage chest. At an amazing value, the three large floor standing spy scopes will take ones breath away. Handcrafted from solid brass and mahogany wood, these elegant centerpieces are pure sophistication.
Barska sport optics, with corporate offices, warehouse and distribution in La Verne, CA (Southern California), is a worldwide leading precision optics company with strong brand recognition in the sport optics industry. Barska optics offers an extensive line of precision sport optics products ranging from binoculars, hunting scopes and spotting scopes to telescopes. Barska is committed to delivering a superior quality product at an affordable price to our customers around the world. For more information, please call Barska at 1-909-445-8168, or visit them online at http://www.barska.com
###