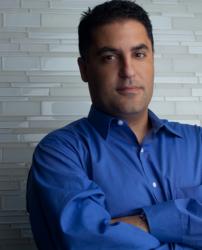 Los Angeles (PRWEB) October 28, 2011
The Young Turks is bringing Town Square, a new channel, to YouTube as part of YouTube's new original channels initiative. A political news and commentary channel, Town Square is produced by Cenk Uygur and The Young Turks (TYT).
Town Square is the next step for The Young Turks Network, leading the convergence of television and the Internet. The Young Turks, the longest running daily Internet show, has accumulated more than half a billion views on YouTube since its launch in 2005. The TYT Network channels include TYT University, What the Flick?! and The Top Vlog, among others. Additionally, The Young Turks will premiere on Current TV in the fourth quarter of 2011.
Launching just in time for the 2012 election year, The Point is a political talk show and the first show on the Town Square channel. It will debut in December 2011, with new episodes posting each week. Uygur, host of Current TV's The Young Turks and The Young Turks on YouTube, will host The Point. In addition to Uygur, the show will feature a panel of analysts and newsmakers from the worlds of entertainment, politics, government, business and breaking news.
Each episode of The Point will focus on a topic that reflects the passion of that week's newsmaker guest and will be introduced via a video submission made exclusively for the show. The Point's panelists will be selected from a rotating group of contributors.
YouTube has announced plans to bring more than one hundred new original channels created specifically for today's connected viewers to its platform.
Well-known personalities and content producers from TV, film, music, news and sports, as well as some of the most innovative new media companies in the world and some of YouTube's own existing partners, will launch new, advertising-support channels for YouTube's worldwide audience.
The first new channels will start launching on YouTube next month and continue over the next year.
About The Young Turks: The Young Turks, the largest online news show in the world, covers politics, pop culture and lifestyle. The show, which will also debut on Current TV in the fourth quarter of 2011, is one of the Top 50 YouTube Partners, with over 30 million views a month and half a BILLION total video views on The Young Turks YouTube Channel. An award-winning online broadcast, The Young Turks has received a 2011 People's Voice Webby Award for Best News & Politics Series, 2011 News/Politics Shorty Award, and Best Political Podcast 2009 at the Podcast Awards and Best Political News Site 2009 at the Mashable Awards. For more information, please visit http://www.TheYoungTurks.com, http://www.youtube.com/theyoungturks or http://www.current.com/shows/the-young-turks.
###