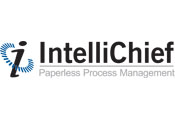 Mansfield, MA (PRWEB) October 31, 2011
IntelliChief LLC, the leading provider of document management and document imaging solutions for the IBM I (System i, iSeries, AS/400) Enterprise, will be presenting their solutions to finance operations professionals at the 2011 AFP Conference in Boston, November 6-8, at the Boston Convention and Exhibition Center.
IntelliChief document management enables accounting departments to eliminate their heavy reliance on paper and solves many problems finance professionals are facing, such as: high paper costs, keeping confidential documents private, preventing documents from getting lost or destroyed in the event of a disaster, and more.
IntelliChief is unique in that it can be easily integrated with numerous ERP applications that accounting professionals rely on to run their business. Users may store and retrieve documents directly from their ERP application screens -- easing access to purchase orders, acknowledgements, statements, receiving documents, invoices, checks, and any other document.
As IntelliChief brings accounting departments paperless, burdens like shuffling around invoices, approvals, and other paperwork are eliminated and replaced with increased document accessibility, quicker turnaround, and overall higher efficiency. Financial departments looking for these benefits and others like electronic workflow can find a vast amount of information at the IntelliChief booth #1041.
About IntelliChief
IntelliChief, is the leading provider of Document Management and Document Imaging solutions for the IBM i (System i, iSeries, AS/400) Enterprise. With decades of expertise in the market and seamless integration with leading ERP software vendors, IntelliChief takes companies of all sizes paperless with a typical ROI of less than one year. Users can create, capture, manage, archive, retrieve, and distribute mission-critical documents directly from their familiar ERP screens, eliminating the need for filing cabinets, storage facilities, fax machines, copiers, and paper files.
###