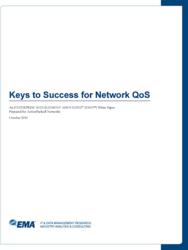 The concept of network QoS is fairly straightforward, but getting it deployed successfully can be anything but easy
HONOLULU, HI (PRWEB) October 31, 2011
Enterprise Management Associates® (EMA™) in conjunction with ActionPacked! Networks™, a leading developer of intelligent software for managing Cisco quality-of-service (QoS), has published a new white paper that examines detailed reasons for using network QoS as well as the best practices for its implementation and management. The paper, titled "Keys to Success for Network QoS" is now available on both the EMA and ActionPacked! Networks web sites.
In the white paper, EMA indicates that because network QoS is implemented inside existing network routers and switches, it can be a highly cost-effective, proactive approach for managing and prioritizing different classes of network traffic and for assuring application delivery.
According to EMA Managing Research Director Jim Frey, the concept of network QoS is fairly straightforward, but getting it deployed successfully can be anything but easy. He indicated that quite often it is not deployed successfully, or even at all, because of the challenge of "getting it right."
To ensure proper QoS implementation, EMA emphasizes the importance of following best practices for both change and configuration management as well as monitoring and troubleshooting of network QoS. EMA also states that QoS management tools should be tasked to simplify the process, automate wherever possible, reduce or remove errors, and improve the efficiency and efficacy in managing and administering the network.
In addition to network QoS concepts and methodology, the white paper also describes costlier alternatives to QoS such as provisioning more bandwidth and purchasing additional devices such as WAN optimization controllers. It also provides a detailed overview of the LiveAction QoS software solution from ActionPacked! Networks and how it addresses the full spectrum of best practices for network QoS management and its broader capabilities including flow and route visualizations and network testing using IP SLA.
"The EMA white paper does an excellent job characterizing what network QoS is for and how it should be applied to the network," said ActionPacked! Founder Nelson Kanemoto. "It also sets a high standard for how management tools need to address the complexity of implementing QoS in challenging environments."
White Paper Download
The EMA white paper "Keys to Success for Network QoS" is available for downloading at http://www.actionpacked.com/whitepaper/ema
About LiveAction Software
A free 14-day trial version of ActionPacked! Networks' award winning LiveAction software described in the EMA white paper is also available for free download on the ActionPacked! web site. http://www.actionpacked.com/liveactiondownload
About ActionPacked! Networks
ActionPacked! Networks is the leader in quality-of-service software for implementing VoIP, Telepresence, Unified Communications and other mission-critical services. The company's LiveAction software increases network service quality and shortens outages by providing true understanding and precise control using rich visualizations and direct device interaction. LiveAction leverages the QoS, NetFlow, Routing, and IP SLA features embedded inside Cisco devices to provide the only all-in-one solution that can support both QoS auditing and provisioning. For more information, visit http://www.actionpacked.com.
###