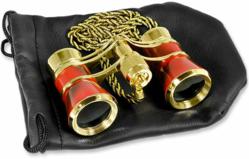 Barska's opera glasses are built with the highest quality optics
La Verne, California (PRWEB) October 30, 2011
Theater or opera glasses are petite, decorative binoculars used to obtain a closer view of an actor's facial expressions, a costume's intricate detail, or the set's lavish decorations. Opera glasses should be compact in design and lightweight so they are easy to carry and convenient to hold for long periods of time. The perfect power is extremely essential when choosing a pair of opera glasses. A magnification of 3x is considered ideal as it is strong enough to let the user view the elaborate details, without losing field of view. The lenses used in a good quality pair of these compact binoculars should be coated to reduce reflections, allowing the user to enjoy a clear, bright view.
Under its "Blueline Conoisseur" line, the leading sport optics manufacturer Barska offers 4 models of beautifully designed and well constructed opera glasses that are a must have for any theatre aficionado. Crafted from highly polished brass and color accents that enhance their elegance, the quality coated optics in these opera glasses offer lucid, sharp images. Weighing just under a pound, each model is very easy to carry. An elegant leatherette pouch in included with each pair of opera glasses to help store these stylish and ergonomic binoculars safely while not in use.
Barska's opera theater glasses are expediently built with both design and functionality in mind. Powered with a 3x magnification and 25mm lenses, they allow the user to enjoy the show without having to worry about making too many adjustments. Each model has unique features catering to specific needs of the user. Ideal for concerts or the opera, Model AB10190 features a beautiful mahogany pair of Barska opera glasses with polished brass trimmings and a gold-trim necklace. Model AB10286 is a deep red, small roof prism binocular which is crafted with a reading light. The built-in red reading light is very useful in low-light situations, allowing users to search for a seat number or to illuminate some reading materials without disturbing a neighbor. Model AB11280 is a classy pair with a pearl white accent and gold trimmings. It is styled with a gold-trim necklace and crafted with a red reading light for optimum performance. Model AB11282 is a unique lorgnette with a silver brushed metal accent. It is designed with a handle which doubles in length for custom viewing.
Barska optics, with corporate headquarters, warehouse and distribution in La Verne, CA (Southern California), is a worldwide leading sport optics company with strong brand recognition in the sport optics industry. Barska optics offers an extensive line of precision sport optics products ranging from binoculars, hunting scopes and spotting scopes to telescopes. Barska is committed to delivering a superior quality product at an affordable price to our customers around the world. For more information, please call Barska at 1-909-445-8168, or visit them online at http://www.barska.com.
###