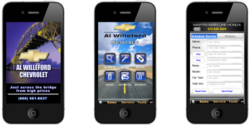 In many cases, the car buyer prefers to text rather than talk, especially younger car buyers. Auto dealers need to embrace this to be successful with younger car shoppers.
Wayne, PA (PRWEB) October 31, 2011
Advanced Mobile, LLC, a leader in "Driving Mobile" through its Cars2Go Services for auto dealerships, announces the introduction of its Dealer TextChat TM platform and its 24/7 Managed Services feature. Dealer TextChat TM is the latest addition to its Cars2Go services.
With Dealer TextChat TM, auto dealers are able to have 2-way communications with customers and prospects via text message/SMS. Users can now text message the dealership's sales or service personnel. Dealers can, in turn, send and receive text/SMS messages from the convenience of their desktop computer, smartphone, or iPad. Now, consumers have another choice in how they communicate with a car dealership.
Text chat sessions can be initiated by the user from either: a keyword and short code; an iPhone or Android App; a mobile website; the HTML dealer website. The dealer can either have one of its staff respond to the text/SMS inquiry or use the 24/7 Managed Services feature in which a trained agent will respond on behalf of the dealership. All Dealer TextChat TM communications are archived and can be exported via ADF to any dealer CRM.
For example, a consumer is on a dealer's app or mobile website that is designed specifically for the auto dealer. The consumer chooses to ask a question about a particular vehicle via the Click to Text option. The text message arrives in the Dealer TextChat TM system. The dealer now can either have an employee respond to the inquiry or it can utilize the Managed Services in which a Cars2Go TextChat agent will respond on behalf of the dealership.
In the past, the auto dealer responded to the inquiry via a return phone call. Many customers found this more intrusive than effective and were turned off by the return phone call. With TextChat, the auto dealer can easily communicate with the customer or prospect from his desktop computer to the consumer's cell phone.
For those dealers that do not want to have staff assigned to handle such inquiries, Cars2Go is now offering a turnkey 24/7 Managed Service solution that will handle the interaction for you. When the TextChat communication progresses to the point of a legitimate lead, the customer contact information is turned over directly to the auto dealer staff.
"The fact of the matter is that many folks simply do not want to talk on the phone these days,' said Bret Dunlap, CEO of Advanced Mobile. "They would much prefer to text rather than talk. Dealer TextChat TM gives auto dealers the tool to engage their customers in a text dialog, but from the convenience of their PC."
Advanced Mobile, of Wayne, Pennsylvania, is an industry leader in providing mobile solutions to auto dealers. Over 1000 auto dealers in the United States use its Cars2Go Services that include: dealer iPhone & Android apps, custom mobile web sites, text message marketing, custom QR Codes, and Dealer TextChat TM.
###