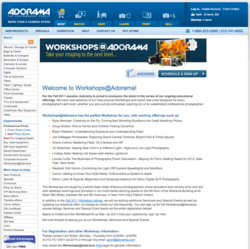 "What a workshop!" says one participant. "It exceeded my expectations, providing immediate learning and skill building."
Chelsea, New York City, NY (PRWEB) October 29, 2011
Photography workshops are all the rage, still going strong at a time when money is tight for nearly everyone. There's a reason photographers continue to place such value on professional guidance and inspiration in tough times: More than expensive equipment or the finest print, knowledge and passion are what make good photographers great. No one knows this better than the people at Adorama, New York City's most innovative camera store and one of America's top online photo retailers.
The lasting value of workshops to photographers is why Adorama offers its own such program. Workshops@Adorama was conceived and is directed by accomplished photo editor Monica Cipnic, whose industry experience and connections have helped make it a unique educational asset. And as a photo community crossroads and product specialist, Adorama offers its workshops' participants a level of access, information, and resources that few workshop programs can claim.
Along with hosting many of the country's most respected photographers—artists and craftsmen willing to share the secrets of their success—Workshops@Adorama brings in highly knowledgable industry professionals, from camera company tech reps to photo editors from major magazines and agencies. Yet these talented teachers are able to help photographers at all levels of experience, from beginners who want a push to the next level to advanced amateurs brushing up their existing skills to aspiring pros who need to know the nuts and bolts of the business. All of Adorama's workshops are held at its headquarters in the heart of New York City, the undisputed photo capital of the world.
Past events in the Adorama workshops program have featured such photographic superstars as Joe McNally, Life magazine's last photographer and location lighting wizard; Deanne Fitzmaurice, winner of the Pulitzer Prize for her photojournalism; Katrin Eismann, a leader in Photoshop education; Seth Resnick, a top authority on photographic workflow; and Bambi Cantrell, acclaimed wedding photographer and author of several books on the subject.
Workshops@Adorama offerings coming up in the next two weeks include a workshop with popular shooter and photo blogger Ryan Brenizer, on getting great wedding photos even in tough situations (November 1); a session with photo industry maven Doug Gordon on how to pose children and family for the best portraits (November 3), which will prepare avid shooters for the coming holiday season; and a workshop with rising photo star Erik Valind on making the most of a DSLR's off-camera flash capabilities, including how to control the quality of light (November 8). For more information, or to sign up for a workshop, visit http://www.adorama.com/workshops.
It's a measure of Workshops@Adorama's success that the program has attracted almost 10,000 photographers from nearly all the states and dozens of countries—and that many participants have returned again and again. These visitors also take full advantage of finding themselves in New York City, home to hundreds of galleries, world-class museums, the leading photo agencies and publications, and of course all the exciting subject matter they could wish for. "Workshops@Adorama has become a top destination for photographers at all levels of experience," says Director Monica Cipnic. "There's no better place to go if you want to improve your photographic skills, learn about the newest equipment, get inspired by working photographers, and pick up effective business strategies. But most of all, Workshops@Adorama is designed to help attendees get even more enjoyment out of their own photography."
Who better to attest to the success of that agenda than Workshops@Adorama attendees themselves? "What an excellent workshop!" says one participant. "It exceeded my expectations, providing immediate learning and skill building." And another: "I just wanted to reiterate my appreciation for Adorama's workshops. They are the best of their kind in New York City!"
For more information about Workshops@Adorama, please contact Monica Cipnic at monicac(at)adorama(dot)com.
About Adorama: As one of the nation's largest photo retail and mail order suppliers, Adorama has served professional and amateur photographers for 33 years. It has recently expanded its service to the community through online photo education (the Adorama Learning Center and Adorama TV) and on-site workshops, programs that make it a unique industry resource. Adorama's vast product offerings now encompass home entertainment, mobile computing, and professional audio, while its services include an in-house photo lab (AdoramaPix) and pro equipment rental (Adorama Rental Company). Knowledgeable staff and unbeatable pricing make Adorama a one-stop shop for all your photo and technology needs. Visit http://www.adorama.com.
###