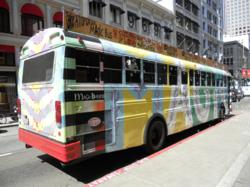 "HAIR and the Magic Bus are a flower-power marriage made in the '60s," says Annette Rose.
San Francisco. CA (PRWEB) October 30, 2011
The Magic Bus will be parked outside the Golden Gate Theatre for all performances except Saturday matinees.
"The hit musical HAIR is traveling to San Francisco for a month of performances and, as an innovative theater production based in San Francisco, the Magic Bus was invited to participate to add a little 'only in San Francisco' spice to the HAIR production," said Annette Rose of Magic Bus.
The Magic Bus will be offering a discount to all HAIR patrons, and SHN will be providing a special ticket offer for all Magic Bus patrons.
The Magic Bus is an innovative movie bus that takes people on a 90-minute sightseeing tour through modern San Francisco while flashing back in time to the Summer of Love. It is half tour bus, half movie theater, blending documentary film, music, and psychedelic art into an unforgettable experience. Patrons tour the cultural highlights of San Francisco, then screens lower and 16 micro-projectors fire up a multi-media visual narrative of the 1960s that brings the past to life. Historic images meld with the present day, displaying San Francisco both as it is now and as it was when hippies wore flowers in their hair.
"The Magic Bus is not a simple bus tour, it tells the story of a generation transformed by the turbulent Sixties. Original voices, sounds, and music give a personal feel for the places that defined an iconic era in San Francisco, and show why so many kids headed out to San Francisco to create a better world," adds Chris Hardman, creator of the Magic Bus.
HAIR is a ground-breaking production that pioneered the genre of rock-opera by James Rado and Gerome Ragni with music by Galt McDermott. Hair depicts the birth of a cultural movement in the 60's and 70's that changed America forever.
The musical follows a group of hopeful, free-spirited young people who advocate a lifestyle of pacifism and free-love in a society riddled with intolerance and brutality during the Vietnam War.
As they explore sexual identity, challenge racism, experiment with drugs and burn draft cards, the show resonates with an irresistible message of hope more than 40 years after it first opened on Broadway.
The score includes such enduring musical numbers as "Let the Sun Shine In," "Aquarius," "Hair," and "Good Morning Starshine."
Hair won the 2009 Tony Award for Best Musical Revival as wellas the Drama Desk, Drama League, and Outer Critics Circle award for Outstanding Revival of a Musical. HAIR plays from October 25 to November 20.
"HAIR and the Magic Bus are a flower-power marriage made in the '60s," states Rose.
For more info, videos and reviews, check them out on the web at http://www.magicbussf.com or call (415) 332-8867.
For more information on HAIR visit: http://www.shnsf.com/hair
Media inquiries for HAIR, please contact SHN PR: pr(at)shnsf(dot)com
###