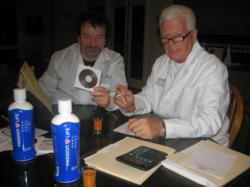 The combination of the online game & the liquid vitamins makes sweeping changes in stress & stress-related illnesses.
San Diego, CA (PRWEB) October 31, 2011
Mindchex.com (the games division of BrainTek Institute) and Passion 4 Life liquid vitamins & minerals introduce the groundbreaking FIRST EVER virtual reality total immersion interactive game designed to help manage stress and manage your brain rather than your brain controlling you! It is played with the brain and not a joy stick, controller or computer! This is the first time this cutting edge technology has been used in the consumer environment and helps the gamer manage and control their brain which greatly reduces stress and mind chatter while improving focus, attention and memory! It is safe and effective for ALL ages and affordable.
BrainTek Institute and its researchers are urging people of all ages to consider giving the game as gifts during this holiday season. It not only is a unique one of a kind gift but it serves the dual purpose of helping the gamer manage stress and their brain to function better in every area of life.
"The first release 'Journey to the Center of Your Mind' teaches people of all ages how to think and develop lobe to lobe communications within their brain," says Dr. Maness, lead scientist at the BrainTek Institute. "In learning to manage their brain, people of all ages have improved focus, attention and memory. We have used these games in special education programs, public and private schools, lock down institutions and clinics and have seen over 2,000 people of all ages improve grades, productivity and find reading and learning is not a chore."
In their search to find a way to stabilize the brain neurochemicals which fuel the brain, BrainTek researchers teamed up with the developers of Passion 4 Life liquid vitamins and minerals and worked to create a product that is balanced with essential amino acids, minerals and vitamins. The combination of the game plus the liquid vitamins aids in the long-term brain support to those playing the games and helps make sweeping changes in stress and stress related illness as BrainTek addresses the neuro pathways and Passion 4 Life addresses the vitamin/mineral/amino acid balance in the brain and body. "Passion 4 Life is honored to be part of such cutting edge technology and to be able to support the brain enhancement of those using the games with our powerful and effective liquid vitamins," says Charles Van Kessler, founder and creator.
This game series teaches players how to manage their brains. It teaches them how to think, how to obtain mental clarity, focus and attention, how to build self-esteem and how to function in life. The game's average length is 12 minutes for each level and is simply downloaded. It is fun and challenging so people enjoy playing it while experiencing long-term brain enhancement benefits. The results show that students have seen an improvement on tests and are enjoying reduced time required to complete homework assignments. Most excitingly, moods have changed. Parents can feel secure in purchasing this game that is not only free of violence but will entertain their children while providing life-long benefits.
The science behind the games can be found at Mindchex.com. The games are now being released to the public and are available for download at MindChex.com or Passion4lifevitamins.com.
Passion 4 Life liquid vitamins & minerals was created in 2004 by Charles Van Kessler after 20 years of research, development & nutritional studies. Charles was raised in a state run orphanage in Amsterdam, Holland during WWII, surviving on flower bulbs & enduring abuse of every kind. After arriving in the US, his vision was to formulate & develop a liquid multi vitamin and mineral product that would give him his health back, and if it worked, he would make it available to the whole world to obtain a much higher quality of life.
That's exactly what happened. Passion 4 Life liquid vitamins & minerals is a unique product containing 135 high grade whole food based ingredients in meaningful levels. It has no added sugar, no caffeine, no wheat, no soy, no dairy, no gluten, no artificial flavorings or colors. It is designed to strengthen the immune system & provide more energy, stamina, focus, better memory, less aches & pains from every day stress. The purpose of Passion 4 Life is to retain the power & energy of youth well into people's 70's and 80's and to help them look better by feeling younger.
Passion 4 Life vitamins proudly founded and supports Passion 4 K.I.D.S., a 501 (c) (3) charitable organization, dealing with homeless, neglected, abandoned, abused and underprivileged children of any race, color and creed as well as children in emergency situations.
The BrainTek Institute has years of research and experience in identifying issues with the brain/body relationship. By studying different functions of each part of the brain and then integrating this research into practical applications, BrainTek has successfully applied technology in a way that individuals report has enhanced their health and performance of their brain. By using several different methods, they are able to alleviate the symptoms of an astonishing range of disorders, as well as improve personal performance. BrainTek has developed protocols for individuals, schools, institutions, doctors and clinics since 1996. BrainTek Institute has been successful in many challenging cases and has been headlined on regional and national news and MSNBC for their successes.
###