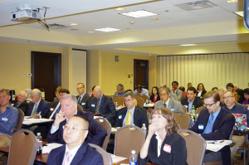 The EB-5 conference is one of the best events I have attended this year!
Los Angeles, California (PRWEB) October 30, 2011
"The National EB-5 Investment Boot Camp" Nov. 11, 2011, in Los Angeles, is attracting commercial real estate developers, hotel executives, attorneys and financial professionals to learn the latest developments of EB-5 regional center program. The Immigrant Investor Program, also known as "EB-5," was created by Congress in 1990 to stimulate the U.S. economy through job creation and capital investment by immigrant investors by creating a new commercial enterprise or investing in a troubled business. In exchange, high net worth overseas investors get an available and expedient green card alternative. More than $3 billion has been invested into American enterprises over the past five years, tens of thousands of American jobs have been created for various industries such as hotels, resorts, assisted living, manufacturing and others.
This full day event will have the most reputable and respected professionals from the EB-5 investment industry. One of the headline speakers include Ronald Klasko, AILA's EB-5 Committee Chairman, Kevin Wright who specializes in the creation of EB-5 Regional Centers around the country, Jim Butler, a Founding Partner with Jeffer Mangels Butler & Mitchell LLP and the chairman of the Global Hospitality Group®. Other top notch EB-5 speakers and guests include Joseph McCarthy, Principal of American Dream Fund and specialist in Immigration Law; David Hirson, a Partner & Immigration Attorney with Fragomen, Del Rey, Bernsen & Loewy, LLP; Michael Gibson, Managing Director, USAdvisors.org; John Jiang, CEO of MICON International; Raymond Ku, Chairman of Westlead Group of Companies (Taiwan/China); Michael Homeier and Jor Law, partners with corporate law firm Homeier & Law. Homeier & Law; Yongjin Lee, Immigration Attorney, Jin Lee Law Group; and John Li, CEO of EB5Supermarket.com.
"In the last three years, we've seen many new hotels, hospitals, resorts, power plants, factories, assisted living facilities around the country benefit from the EB-5 regional center program," says Brian Su, CEO of Artisan Business Group, Inc., hosting the conference. "Every day we learn more about the EB-5 program. This event will help more development projects access the benefits of EB-5."
The conference will provide timely and accessible information to professionals who are experienced with EB-5 and to those who are new to the program. Come learn from the top EB-5 experts how to create your own regional center to find investors for your own special project. This full day dynamic conference in Los Angeles on November 11, 2011, is hosted by Mr. Brian Su, CEO of Artisan Business Group, Inc., a leader in EB-5 investment and business advisory. Artisan Business Group has been very successfully organizing major EB-5 business seminars and conferences in Chicago, New York, Las Vegas, Houston, San Diego, Guangzhou (China), Boston, and Orlando. The event sponsors include Micon International, the Private Bank of California, EternaTile, Inc.
To see more details about the event and registration, visit http://www.EB5BootCamp.org.
Press Contact:
Brian Su
Artisan Business Group, Inc.
http://www.artisanbusinessgroup.com
info(at)artisanbusinessgroup(dot)com
# # #