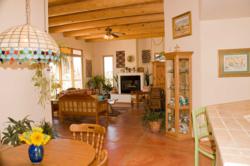 Santa Fe, New Mexico (PRWEB) October 31, 2011
In October of 2011 the Natural Homes Marketing Group and Logic Real Estate of Santa Fe, New Mexico joined forces to deliver the next generation of homes to the Santa Fe market. Natural Homes was founded by Alan Hoffman who has been building Sustainable communities and Solar Homes since 1974. The major breakthrough fostered by the American Recovery and Reinvestment Act has made it possible to build super energy efficient, healthy homes and Zero Energy Homes at a price a working family can afford. Alan Hoffman said, "These homes are of custom quality featuring tall ceilings with vigas and wood planking in the great room, stone counter tops and smooth finished walls with round corners". The advanced technology used includes efficient lighting and appliances, Whole House Heat Exchanging ventilation and Solar Electric panels to generate electricity on site.
Logic Real Estate is the newest incarnation by respected realtors Randall Scott and Lynn G Scott. Founded last year, Logic Real Estate formed this partnership with Natural Homes to help move the market to the next generation of energy efficient real estate. Randall Scott said, " We have developed a structure to accomplish successful real estate transactions and hope to educate the market on cost effective Zero Energy Solar Homes". With offices on St Francis Drive in north Santa Fe, Logic Real Estate offers a full line of real estate services including home buying, home listing, leasing and now Zero Energy Custom Construction. Natural Homes has begun final design on two new Solar Homes in the Santa Fe area for commencement of construction before the winter freeze.
Now that Natural Homes, working with Renaissances Builders have proven that affordable Solar Homes can be built in Santa Fe and Artistic Homes has accomplished the same in Albuquerque New Mexico, we will endeavor to communicate with the buying public to let them know that the "Holy Grail" in sustainable building, the Zero Energy Home has arrived. On Sunday the 23rd of October five professionals gave a one on one workshop at the Zero Energy Model Home on Coyote Ridge Road in Santa Fe. A number of interested homebuyers came by to get their questions answered pertaining to building and renovating to a zero energy standard.
Contact Alan Hoffman at 505 316 0449 or Village(at)NewVillage(dot)com
###