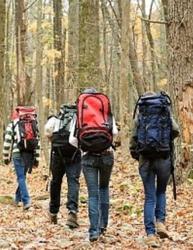 To be recognised by Tatler as one of the top spas in the world is a huge honour and an accolade to our fantastic team!
Razines, France (PRWEB) October 30, 2011
The Tatler Spa Guide, which is an exclusive rating agency that names the top 50 spas in the world, has named NuBeginnings France as a top spa worldwide. This recognition by Tatler is the result of NuBeginnings France striving to exceed the demands of every client that attends the highly personalized weight loss retreat. Tatler, which is owned by Condé Nast Digital, is highly selective and only considers the best spas in the world for this prestigious reward.
Nu Beginnings France, which is one of the best weight loss retreats in the world, provides luxurious accommodations, gourmet food, personal training, and constant attention to each client. In addition, all of the personalised programmes include two months of support after leaving the weight loss boot camp.
Although NuBeginnings France is delighted to have been named as one of Tatler's Top Spas in the World for 2012, achieving this recognition after only one year of operation is truly significant. The reward is the direct result of the hard work and dedication of the expert team at NuBeginnings France. The French arm of the hugely successful NuBeginnings Weight Loss Boot Camp was only opened last year and has already proven to be a huge success. With its dreamy location in a beautiful French Chateau, guests are treated like royalty from the moment they arrive.
"To be recognised by Tatler as one of the top spas in the world is a huge honour and an accolade to our fantastic team," said NuBeginnings France's founder Victoria Willis. She went on to say: "We are always improving our programme to make sure we stay at the very cutting edge of weight loss theory and practice -- we look forward to sharing our new ideas with new guests in 2012. It is going to be an exciting year."
With a varied exercise programme and two full time personal trainers on call, even the most reluctant exerciser will be convinced to enjoy calorie burning in a different way than they are accustomed to. Also, a team of live therapists are available and contribute greatly to making NuBeginnings France the crème de la crème of weight loss boot camps.
NuBeginnings France's weight loss retreat, which is located at the beautiful Chateau Milly, is a castle-like location that helps visitors release their inner royalty. Every room at the chateau is unique, comfortable, and of course features an ensuite bathroom. The luxurious weight loss boot camp only uses 100% Egyptian lines and stocks each bedroom with incredible bath products. Chateau Milly is surrounded by 40 acres of beautiful parkland grounds and will be a pool in 2012. The parkland grounds, which is home to resident wild deer, donkeys, and chickens, induces tranquility and was a contributing factor to the Tatler award.
NuBeginnings France is proud to receive the distinguished Tatler ranking and is committed to providing each client extraordinary service in 2012.
###