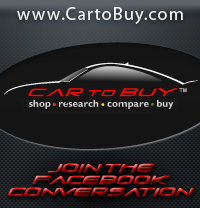 Car To Buy asks both car manufacturers and car owners about vehicles to give buyers a realistic picture of their dream car.
(PRWEB) October 31, 2011
Car To Buy gives consumers a new approach to car buyers with its new website CarToBuy.com. Using a consumer interactive approach, car buyers can now have access to each manufacturer's specs for their automobile and truck models, but also get insurance information, auto loan, credit reporting, and mostly importantly, be able to talk to other car owners about their real experience with the specific model they are interested in. This site is different than other auto sites because of the ability to interact with other car owners to get the real scoop on each model of car or truck.
Car To Buy gives potential buyers more information about how each vehicle model performs by giving them access to other current owners who will give a more unbiased assessment of the vehicle. Car To Buy will rely on several interactive features to give car owners a forum for their experiences with their current vehicle. One of the primary features of the site is to list the top Google searches for each car model. Google searches tell consumers what trends are emerging from other potential automobile buyers by telling them what manufacturers are being accessed through the largest search engine on the internet. This week Ford may be the most highly searched car manufacturer, but what about next week?
As new autos are introduced, new auto recalls are announced or models are discontinued, the Google Top Searched Vehicle list will change. It is important for consumers to understand that both positive and negative reports can affect the Top Searched Vehicle list. These events could have an effect on their automobile buying decisions.
Car To Buy asks viewers to comment on the Question of the Day for each vehicle model. Comments can be left on the CarToBuy.com website or on the Car To Buy Facebook page. The Facebook page will offer even more opportunities for happy car owners to spread their enthusiasm for their new "baby" or for apathetic or angry drivers to vent their frustration about their "lemons." Of course, Twitter will also be employed to give car owners an additional voice for their auto experiences.
The Car To Buy website gives potential buyers all the information they need to make a car buying decision from the many sources that are driven to sell their cars, but tempers the sales pitch of the manufacturers and dealers with real driving experiences from owners of the car of their dreams. Car To Buy is the first website to present these two outlooks on each car model so that car buyers can really make an informed opinion.
# # #