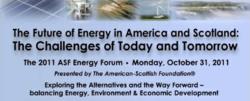 (PRWEB) October 30, 2011
Who Will Pay for the Green Economy? New York Talks to Scotland on Energy Challenges
The future of energy in America and Scotland will come under the spotlight a high-level forum in New York presented by the American-Scottish Foundation in New York.
Senior energy decision-makers and thought leaders will gather at the SUNY Global Center on Monday, October 31, for the first American-Scottish Foundation Energy Forum.
David Bragdon, appointed by Mayor Michael Bloomberg last year to lead New York City's sustainability agenda, and one of Scotland's leading industrialists Lord Smith of Kelvin, Chairman, Scottish and Southern Energy and The Weir Group are among the speakers.
Heather Bain, the Foundation's Chairman, said the forum will use Scotland and New York City and State as 'critical laboratories' to explore the challenges and the opportunities.
Topics will include who will pay for the green economy, how energy leaders will fuel the future, and creating smarter cities.
Other speakers at the one-day event will include Pete Grannis, First Deputy Comptroller, New York State, and former New York State DEC Commissioner, and Carl Arnold of the Sierra Club, New York on the role of environmental advocacy.
David Wilson, Director of Energy at The Scottish Government will discuss why Scotland wants to the renewable energy leader of Europe, and Khalil Shalabi will talk about how the New York Power Authority (NPYA) is helping deliver cleaner power across the State.
Ernest Tollerson of the Metropolitan Transportation Authority (MTA) will focus on the greening of transportation in New York City.
The forum will be chaired by Alan Capper, President of the Foreign Press Association of New York, Ed Crooks, US Energy and Industry Editor, Financial Times, and Ann Kayman, CEO of New York Grant Company, and a former Enterprising Women magazine 'Woman of the Year'.
American-Scottish Foundation Energy Forum, SUNY Global Center, 116 East 55th Street, New York, October 31, 2011.
A limited number of complimentary day delegate passes are still available.
Please contact: asfevents(at)wwbcny(dot)com Tel. 212 605 0338 x 4
Programme information:http://www.americanscottishfoundation.com/events/energy_11.html
NOTES TO EDITORS
Founded in 1956, The American-Scottish Foundation® is dedicated to strengthening ties between individuals, institutions and businesses of Scotland and the United States. The ASF Energy Forum is part of the Foundation's 55th anniversary program of events and activities. http://www.americanscottishfoundation.org
Further information:
Camilla Hellman, Director of Development, American-Scottish Foundation
T: 212 605 0338
Email: asf(at)wwbcny(dot)com
Leonard Forman
Forman & Partners
8a Randolph Crescent
Edinburgh EH3 7TH
T: +44 (0)131 538 8319
###