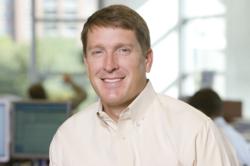 I look across our entire firm now and am so excited about the quality and depth of our team. We are well positioned for the work ahead.
Salt Lake City, UT (PRWEB) October 31, 2011
Grandeur Peak Global Advisors, the firm founded by former Wasatch portfolio managers Robert Gardiner and Blake Walker, announced the addition of two more seasoned professionals to the Grandeur Peak Team. Mark Siddoway has been named Head of Client Relations and Amy Hone as Vice President of Trading & Operations.
Mark Siddoway, CFA, CAIA, comes to Grandeur Peak as the Head of Client Relations from Lehigh University where he was the Director of Public Markets Investments. Prior to that Mr. Siddoway had been the Deputy CIO at Utah Retirement Systems. Upon joining Grandeur Peak, Mr. Siddoway commented "I have spent the last eight years evaluating hundreds of investment firms. In the last three years alone I have hired roughly 30 managers, but the Grandeur Peak story was so compelling that I had to join the firm. The global small/micro cap space is such a rich investment opportunity, and Grandeur Peak is pursuing it with acclaimed portfolio managers and an experienced team that is uniquely qualified for this space."
Amy Hone, MBA, joins Grandeur Peak as VP, Trading & Operations from Marlin Business Bank where she was the Chief Compliance Officer and Director of Internal Audit. Ms. Hone is long-time associate of many on the Grandeur Peak team as she had previously spent 15 years at Wasatch Advisors, including eight years as the Director of Operations. Said Grandeur Peak President Eric Huefner, "We are so grateful to have someone as experienced as Amy leading our back office. Not only does Amy bring two decades of experience across critical roles, but she had the unique experience of leading the Wasatch operations department through the firm's expansion into international investing, making her a perfect fit for our global investment approach."
Robert Gardiner, CEO, reiterated the importance of these two additions, saying "we built out our six-person research team quickly and aggressively this summer because it was important to have a world class investment team in place well before our funds launched; but it is the addition of Mark and Amy that now allows me to sleep at night. In combination with Eric, this trio is an amazing team to lead our firm. They each have tremendous experience and relentless passion. I know our clients will be well served; and the efforts of these three will allow me and the research team to stay more focused on research. I look across our entire firm now and am so excited about the quality and depth of our team. We are well positioned for the work ahead."
About Grandeur Peak Global Advisors:
Grandeur Peak Global Advisors is comprised of a highly seasoned and collaborative research team taking a bottom-up approach to investing using disciplined global screening, rigorous company due diligence, and close attention to valuation to find what we believe to be the best investment opportunities around the world. Our bias is towards small and micro cap companies because we believe we can find faster growth among these firms, and often at better valuations due to the lack of analyst coverage. Grandeur Peak Global Advisors, LLC is an employee-owned investment adviser headquartered in Salt Lake City, Utah and registered with the Securities and Exchange Commission under the Investment Advisers Act of 1940.
The objective of both the Grandeur Peak Global Opportunities Fund and the Grandeur Peak International Opportunities Fund is long-term growth of capital. These funds are new and have limited operating history.
Mutual fund investing involves risks and loss of principal is possible. Investing in small and micro cap funds will be more volatile and loss of principal could be greater than investing in large cap or more diversified funds. Investing in foreign securities entails special risks, such as currency fluctuations and political uncertainties, which are described in more detail in the prospectus. Investments in emerging markets are subject to the same risks as other foreign securities and may be subject to greater risks than investments in foreign countries with more established economies and securities markets.
An investor should consider investment objectives, risks, charges, and expenses carefully before investing. To obtain a prospectus, containing this and other information, visit http://www.grandeurpeakglobal.com or call 1-855-377-PEAK (7325). Please read it carefully before investing.
Grandeur Peak Funds will deduct a 2.00% redemption proceeds fee on Fund shares held 60 days or less. For more complete information including charges, risks and expenses, read the prospectus carefully.
Valuation is the process of determining the current worth of an asset or company.
Wasatch Advisors is not affiliated with Grandeur Peak Global Advisors or with ALPS Distributors, Inc.
CFA® is a trademark owned by CFA Institute. The Chartered Financial Analyst (CFA) designation is issued by the CFA Institute.
Grandeur Peak Funds are distributed by ALPS Distributors, Inc ("ADI"). Eric Huefner is a registered representative of ADI.
GPG000116 9/30/2012
###