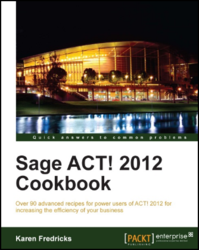 Act on your Sage ACT! 2012 learning with Packt's new book and eBook
UK (PRWEB) October 30, 2011
Birmingham: Packt is pleased to announce the publication of its Sage ACT! 2012 Cookbook, a book and ebook that is chock full of immediately applicable recipes covering ACT! 2012. Written by Karen Fredricks, a world leading author on ACT!, the book will take end users from novice to pro, with a special focus on the advanced functionality of ACT! 2012. Many recipes will be relevant to users of ACT! who have not upgraded since 2009, 2010, or 2011.
Sage ACT! is Customer Relationship Management (CRM) software that is used to keep track of client and prospect details in a single database that can be shared by multiple users. It helps businesses to organize contACT! information, calendars and notes, and ultimately maximize contACT! relationships in one centralized database to optimize business efficiency and profitability.
The Sage ACT!2012 Cookbook is the latest publication from Karen Fredricks, a leading name in ACT! publishing, and the co-author of the best selling Sage ACT!! 2011 Dashboard and Report Cookbook
The Sage ACT!2012 Cookbook focuses on advanced features in the new release, but is also relevant to users of ACT! who haven't upgraded from previous versions. Readers will be able to work with the new Start Up options as well as ACT!'s E-Marketing and Opportunity features. Readers will learn how to integrate the ACT! database with Microsoft Outlook, Google, and social networking sites like Facebook and Linkedin. They will not only be able to utilize ACT!'s E-Marketing campaign features by creating an HTML campaign but also learn to create E-Marketing Campaigns, and take advantage of ACT! Smart Tasks to automate routine CRM tasks.
ACT! users interested in learning the functionality of ACT! 2012 will find this book to be a valuable addition to their bookshelf. This book is out now and is available from Packt and other leading booksellers. There are full details on the title available on Packt's website.
About Packt Publishing:
Packt Publishing is a modern, innovative publishing company with a print on demand mantra that enables them to not only keep up the frequent developments in the technology industry, but to focus on specialist, niche technology areas.
###