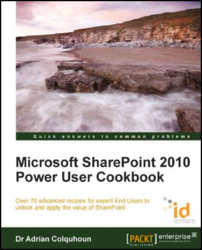 Don't just understand basic SharePoint functionality; learn to solve your real-world business problems by "Thinking SharePoint"
UK (PRWEB) October 31, 2011
Birmingham: Packt Publishing, one of the world's leading publishers of Microsoft Sharepoint books, announces the publication of its Microsoft SharePoint 2010 Power User Cookbook. As a book and eBook it provides a valuable resource of recipes walking Power Users through a range of collaboration, data integration, business intelligence, electronic form, and workflow scenarios, as well as offering three invaluable business scenarios for building composite applications.
Aimed towards advanced End Users and Powers User of SharePoint 2010 who want to accomplish specific business tasks beyond the basics, this cookbook is not to be missed. It includes instructions on how to: create and publish InfoPath forms to front-end your business processes, understanding who is listening to your information with SharePoint Web Analytics tools and unlocking the true business value of SharePoint with HR, CRM, and PM composite application examples
Packt Publishing has, in recent times, published a number of SharePoint titles including:

Microsoft Silverlight 4 and SharePoint 2010 Integration
Microsoft SharePoint 2010 End User Guide: Business Performance Enhancement
Microsoft SharePoint 2010 Enterprise Applications on Windows Phone 7
Microsoft SharePoint 2010 Development with Visual Studio 2010 Expert Cookbook
In November, Packt is scheduled to publish:
Microsoft SharePoint 2010 and Windows PowerShell 2.0: Expert Cookbook.
The full list of Sharepoint titles can be found on Packt's Microsoft SharePoint page.
About Packt.
Packt Publishing is one of the world's leading providers of books, eBooks and eLearning for Microsoft focused technologies. It has cemented its reputation with titles across the Microsoft space, from SharePoint and SQL Server to Dynamics, Silverlight, .NET and XNA. All Packt titles are available in print form, Kindle, ePub, mobi, and through online library platforms. Packt recently launched its own library platform 'PacktLib' where web users can access all Packt's titles for a low annual subscription.
# # #