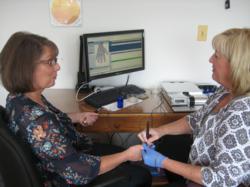 EDS can help recognize a patient's organ dysfunction even before physiological symptoms manifest themselves. In addition, EDS can be used to test for food and environmental sensitivities.
Orland Park, Illinois (PRWEB) October 30, 2011
Electro-dermal Screening (EDS) may not be a medical diagnostic tool most Americans are aware of. However, medical research is now proving that EDS is a powerful tool in helping people gain insight to the health of key organs within the body, as well as food and environmental sensitivities. Vital Health, Inc. offers EDS and uses this diagnostic tool to help clients regain their health through the wealth of vital information the test provides.
Barbara Griffin, NMD, CNC, Vital Health, Inc. began, "Just as an EKG machine measures the electrical activity of the heart, EDS measures these same electrical pathways to provide critical information about organs and body systems. EDS can help recognize a patient's organ dysfunction even before physiological symptoms manifest themselves. In addition, EDS can be used to test for food and environmental sensitivities."
EDS is one of the core treatment modalities utilized at Vital Health, Inc. It is a painless and non-invasive diagnostic tool that can help identify key weakened or stressed areas within the body. This same EDS solution can evaluate an infinite number of products for use in restoring equilibrium to imbalanced areas within the body. Through the EDS solution system, Dr. Griffin has helped thousands of clients.
"Dr. Griffin gave me my life back," expressed Tinely Park resident Mickey Brach. "I had been doctoring on and off for about ten years and knew a piece of the puzzle was missing. I had two serious conditions which worked against each other. I made an appointment to see Dr. Griffin with hopes she would be able to fill-in the blanks that would lead me back to health. Dr. Griffin completed the EDS screening, made dietary suggestions and recommended supplements that would help me feel stronger. I left the office with the confidence that I was finally going to get some results that were positive."
EDS is completed through the use of a computer and two devices, one positive and one negative. The positive lead is attached to a stylus with an electrode tip. Dr. Griffin holds the stylus by the insulated handle and presses the tip against one of the patient's acupuncture points in either the hand or foot. The client holds a hand electrode in his or her free hand. The scan shows how much stress an organ's meridian is under and can aid Dr. Griffin in determining what can be helpful in eliminating the imbalance.
EDS is an excellent tool for identifying food, chemical and environmental sensitivities EDS was shown to be just as effective as traditional screenings without the pain, needles or invasive methods. As a result of its non-invasive approach, EDS is a perfect solution for children who need allergy testing. In fact, Dr. Griffin is very effective testing newborns. Neither the EDS screening, nor Barbara Griffin provide medical diagnoses or medical treatment. Follow-up with your medical doctor before beginning any new plan is strongly recommended.
Brach shared, "Shortly after seeing Dr. Griffin and following her suggestions I begin to feel better. I thank God for Dr. Griffin, and because of her knowledge, compassion and drive to help others, I now have my life back. I am healthier and live a more energetic life that allows me to enjoy my family and grandchildren."
About Vital Health, Inc.:
At Vital Health, Inc. Dr. Griffin integrates a whole body approach with the intention of faciliting wellbeing and optimal amongst her clients. Dr. Griffin's specialties include: traditional naturopathy, nutrition, EAV Meridian Stress Assessment, Food Sensitivity Screening, Environmental Screenings, Iridology, SKASYS, Live Blood Cell Analysis as well as established integrative therapies such as Neoroemotional Therapy, Neuromodulation Technique, Cold Laser Therapy, Emotional Stress Integration and Neuro-link Technique. In addition, Jade Derma Ray Lymphatic Massage and BioCleanse Foot Detox are also available at Vital Health, Inc. For more information please visit Vital Health's website at http://www.vitalhealth.org.
# # #