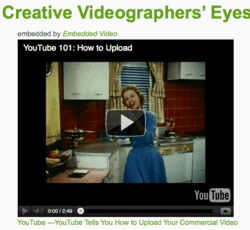 "Videos and video popularity now affects how much traffic search engines send to websites. B2B companies serving narrow niche markets need help going viral." Amy Munice, Creator of Global B2B Communications
Chicago, IL (PRWEB) October 31, 2011
"Creative Videographers' Eyes", a growing online blog by experienced videographers , video production companies and corporate video producers who comment on best practice commercial videos that they have found especially inspirational, invites technology companies to submit their online videos and animations for inclusion in this globally publicized compendium of best-practice video tips. Amy Munice, creator of the Global B2B Communications web site that is hosting the "Creative Videographers' Eyes" blog assures B2B companies that only positive promotional comments by videographers that reference their video submissions as website video success stories will be included.
Munice comments, "The Creative Videographers' Eyes" blog has a two-fold purpose. One, we hope to create a short cut to help global B2B companies that go to some lengths to create quality videos gain a wider worldwide audience whose industry information might otherwise be too narrow in focus or too technical to easily become the type of global viral video that can be so important to driving traffic to web sites and assisting in search engine optimization. The second goal of the "Creative Videographers' Eyes" is to showcase highly talented videographers, corporate video producers, and video production companies as a growing global roster of resources for web marketing videos and other commercial films that work."
To submit a video for consideration as a globally publicized video success story on "Creative Videographers' Eyes", companies need to send a link to their video posted a public video hosting service such as YouTube to MakeOurVideoViral(at)globalb2bcommunications(dot)com .
"Creative Videographers' Eyes" and other high return-on-investment resources for both online and off-line marketing are promoted worldwide through a combination of news releases to both web and print outlets, hundreds of articles and columns written yearly by Global B2B Communications contributors on global marketing topics, pay per click advertising, and via global social networks such as Twitter, LinkedIn, Xing, Orkut, Viadeo and more.
For more information on "Creative Videographers Eyes", contact Amy Munice at +872-222-7361 (+872-B2B-SEO1) or amy(at)globalb2bcommunications(dot)com.
About Global B2B Communications
Global B2B Communications is both an online information source on up-to-date information on how world search engines work, web competitive analysis, and a compendium of internet marketing tools and services in synch with today's search algorithms, as well as directories for marketing online and off-line, such as a global directory of editor-recommended translators. Amy Munice, President of ALM Communications (now also doing business as Global B2B Communications can be reached at info (at) globalb2bcommunications.com or +872-222-7361 or +773-862-6800, or Twitter—WorldB2B.
###