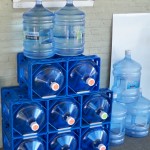 Gilbertsville, PA (PRWEB) October 31, 2011
Dierolf Supply, a specialist in water treatment systems and wholesale water testing, has recently announced the start of their drive-up water service, which will allow customers to purchase their salt and bottled water without having to get out of their cars or trucks.
To take advantage of the service, Dierolf Supply customers need only drive up to the pickup area, where friendly company team members will be ready to load their salt, 5 gallon water bottles, and other water treatment supplies into the vehicle. This new drive-thru service is an extension of the delivery service which is already provided by the business.
Dierolf Supply is a full-service company that has been providing customers in the tri-state area with services such as water hardness testing, water testing, upgrades to water system, replacement of water filters, and replacement parts for water systems, for many years. Also provided by the company are water coolers for purchase and rental.
The 5 gallon water bottles available through the new drive-thru service are a product of the Water Guy, which sources its all-natural spring water deep in the mountains, through protected land to ensure that it is kept a long distance away from possible contamination, for the greatest purity and taste. The Water Guy has been providing the highest quality water to the local area since 1990 and is now Southeastern Pennsylvania's largest family-owned American spring water company.
The water softener salt is available in several bag sizes and can be used not only for water treatment systems, but also as a ice melting product for driveways and walkways. This new drive-thru service makes safety and property maintenance during the upcoming winter season much more convenient, especially considering the early start the snow has made this year – having made its first appearance in October.
For more information about the new drive-up service for bottled water and bags of water softener and ice melt, or to learn more about the other products and services offered by Dierolf Supply, visit the website at: http://www.dierolfsupply.com
# # #