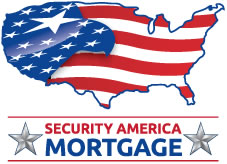 Security America Mortgage's goal is to educate all Veterans as to their VA Home Loan Benefits.
Houston, TX (PRWEB) October 31, 2011
Security America Mortgage of Houston, TX Launches New Corporate Website Focused on Veteran VA Home Loans, FHA Loans, and Mortgage Refinance for Houston, Texas families.
Security America Mortgage Benefits
Security America Mortgage works exclusively with Veterans. This means we are experts in the VA Loan Process, VA Loan Guidelines, and VA Loan Qualifications. Our vast experience in VA Home Lending makes our process quick and easy. Our VA Experts will be there with you from beginning to end, working to make sure everything is in order so that your VA Home Loan is a smooth transaction.

Security America Mortgage is a VA Approved Lender
Security America Mortgage works exclusively with Veterans
Security America Mortgage's VA Experts make the VA Home Loan process quick and easy
###