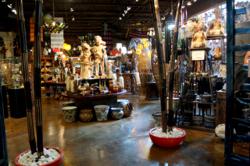 ...original designs and a wonderful collection of unique artisan crafted lighting, furnishings, and pottery...
Atlanta, GA (PRWEB) October 31, 2011
Just steps away from their original location, first opened in 1996, this importer and designer of custom furniture will soon open their new No Mas! Productions site, offering their services to people looking for unique and creative home furnishings. Start with a napkin and draw your new bar, booth, or wrought iron gates. "If you can draw it, I can make it," says Steve MacNeil, co-owner. No Mas! focuses on the arte de Mexico, working directly with the artisans with no middle man, so has the ability to make just about anything, establishing them as the "go to" for architects, interior decorators, restaurateurs, and the hospitality industry. "We plan to feature some of our original designs and a wonderful collection of unique artisan crafted lighting, furnishings, and pottery." explains Walt Bilinski co-owner. "We also do a lot of work film industry set designers.
No Mas! Productions presents the Atlanta market with "functional works of art" from over 300 artisans in Mexico. The owners personally select or design all of the handmade items in the store's inventory. When asked for the history of how they started, it is easy to see that their love of travel and of Mexico has only grown stronger over the past two decades, as they have gotten to know the far reaches of our southern neighbor.
"Some of our passion has found its way into other restaurants," adds Steve MacNeil, co-owner. "In fact last year we worked on seventeen different projects for the restaurant and hospitality industry, creating custom furnishings, laying out designs for décor, and even producing specially designed chairs, tables, booths, bars, and lighting."
The company's new showroom will no doubt be overflowing with incredible furnishings as their reputation ensures. Get to know the company well and you will see that their new space is just the "tip of the iceberg". No Mas! Hacienda & Cantina has been operating in downtown Atlanta's Castleberry Hill art district since 2006. This enormous complex includes No Mas! Cantina - delicious Mexican fare with over 350 seats; No Mas! Hacienda - two floors of beautiful furnishings, silver jewelry and gifts; ADios Café - fresh baked pastries, artisan chocolates, and delicious Mexican coffees, with breakfast daily; and Bodega Garden - an out of doors bounty of pottery. Voted "Best Mexican" by various local publications, No Mas! has also earned Downtown Atlanta's Design Excellence Award.
To view a video sample of No Mas! custom restaurant decor, go here.
http://www.NoMasAtlanta.com 404-350-0907
# # #