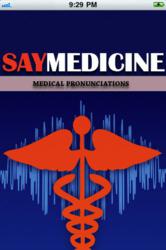 We are constantly working to improve our applications based on the feedback we receive from our users.
New York, NY (PRWEB) October 31, 2011
SayMedicine's iOS application, "Medical Pronunciations", was released for iPhone and iTouch exactly one year ago. The unique medical dictionary allows users to easily lookup audio pronunciations of complex medical terms and drugs.
Over the past twelve months, the application has been sold in over 20 countries worldwide and has become a popular reference tool within the healthcare community. The app features approximately 10,000 professionally recorded audio pronunciations and autofill search functionality. It also allows the users to easily research the words online with a built-in browser that automatically retrieves data from WikiPedia, eMedicine, and Google.
Since its release last October, SayMedicine has expanded to the Android platform with the Pharmacology Pronunciations app and have added several new features, including one that allows the users to record and add new words.
"We are constantly working to improve our applications based on the feedback we receive from our users. Over the next few months, we'll be adding some awesome features and including over 50,000 new words to the library," said Santhosh Cherian, the founder of SayMedicine.
The company has set a one year goal to expand the app's library to include virtually all drug names and medical terms. The update set to be released in a month will include a platform that automatically downloads new words each time the application is launched. This is convenient for users because SayMedicine is planing on adding new audio files on a weekly basis.
Before the end of the year SayMedicine's Medical Pronunciations application will also be released for Android and Mac OSX. The current "Pharmacology Pronunciations" app for Android will be discontinued and replaced by the complete version. Also, a new login feature will allow users to access their bookmarks and custom words from multiple devices.
SayMedicine has not released an updated price on the the new apps. However, the app currently sells for $4.99 in the iTunes app store and anyone who purchases the app before the new update is entitled to free updates.
# # #