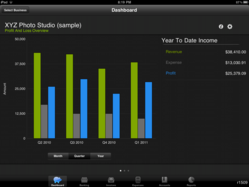 Small business owners consider Kashoo--on the Web and on the iPad--as an excellent alternative to traditional accounting software
Vancouver, Canada (PRWEB) October 31, 2011
Kashoo, Inc., a leading provider of online accounting software and iPad accounting app for small businesses and freelancers, announced today that the company's free iPad app for accounting has hit the 5,000 download milestone on iTunes.
Kashoo Accounting for the iPad is a free full-featured, stand-alone accounting app built specifically for the iPad. It lets small business owners keep track of receipts, invoices, and bank balances on the go saving them time and giving them more control over their business finances.
"Hitting 5,000 app downloads in such a short period of time is a great accomplishment. More importantly, though, adding these 5,000 customers to the over 20,000 sign-ups for the Web application at Kashoo.com tells us that our customers view Kashoo as an excellent alternative to traditional accounting software," said Jim Secord, Kashoo CEO.
Former QuickBooks user and current Kashoo customer Chris Pace agrees. Pace uses Kashoo to manage the finances of his Arizona-based website development and social media firm Congruity Solutions (http://www.congruitysolutions.net). "Boy, I was shocked at how easy Kashoo was to use. It gives you amazing visual detail of the info you enter in on the Kashoo.com site. It also allows you to create and edit invoices, email them out, and record all the transactions you would see on your dashboard," Pace said.
With Kashoo, Congruity Solutions and many other organizations have found a better way to manage their small business finances. Sending a client an invoice before you leave the job site means getting paid faster. Capturing a photo of a receipt at the restaurant rather than throwing it in a shoebox makes filing taxes easier. Keeping on top of money flowing in and out of the business in real time supports better cash flow management.
To further support how small businesses operate today, the Kashoo team is hard at work building more mobility apps on other platforms. To use Kashoo Accounting on the iPad in your business, please visit https://www.kashoo.com/ipad-accounting-app/.
About Kashoo
Kashoo, Inc. develops easy-to-use accounting and record keeping software for small business owners around the world. Founded in 2008, the company is located in Vancouver, Canada.
###