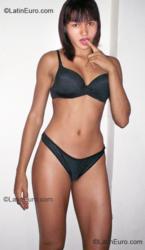 Dating is about sex.
Miami, Florida (PRWEB) October 31, 2011
It is generally accepted knowledge that physically attractive people get more out of life and are more successful romantically and financially, according to Daniel S. Hamermesh, Beauty Pays: Why Attractive People Are More Successful. Amazon.
The new LatinEuro dating survey of who get responses and who does not makes this assumption an understatement.
Women who are on the LatinEuro.com "Hottest List" get 90% of the attention from men.
The "Hottest List" of women is only 5% of the total female membership on the site.
In other words, 5% of the women get 90% of the action from men.
This is based on years of research and our new study. LatinEuro.com has been in business for 23 years.
This study is contrary to a ubiquitous marketing hype about person's internal qualities that we see all over the net and on yahoo.com, Google and TV ads, in the opinion of Scientific Dating Methods by H. Y. Göksu.
As a primary consideration, men on LatinEuro.com do not care about the woman's personality and character. Men do not discriminate where the women is from, her age, profession, personality or other data that some dating sites tout as being as being important factors in matching people up for a date.
"It is all visual when it comes to men. We never get a comment from a man about woman other than a reference to her physical appeal. Popular examples of comments are "She is Beautiful, "Wow, what a body." "I love her looks," "I am a big boob man." "I am a butt man." We have never heard the comment. "I am a "personality man". Not once! We wish it were different but it is not." says Vania Santos, Director at http://www.LatinEuro.com.
Male member on LatinEuro.com are from all around the world. These men are from different cultures, speak different languages, are of different ages, religions, races and physical types and do not know one another. Incredibly, they all choose the same type of women as their primary choice. They have 1000's of attractive women to choose from but this diverse group of men are unified by their common interest in woman. The men all vote the same. Sexy, hot girls with curves bodies and beautiful faces, knock out all other women on LatinEuro.com
"Again, it is all visual. There are so many choices of women and yet the men weed out the ugly ones and focus only on the super beautiful women with a lot of sexy appeal and little clothing that shows their body," says Vania Santos
"One thing that women can do to get more men to respond is to take better photographs. On dating sites people are pictures and not people. It is your photographic representation that you are putting out to the world. Put on make up and do your hair. Improve your odds greatly by, not using a wide angle lens cell phone camera. Most dating profiles polluted with cell phone camera photos. They distort people's faces and make them look weird, transforming faces into turnip or watermelon heads. Also, submit body shots showing your best assets. Our data says, this will improve your response rate from prospective men," says Vania Santos.
Again, here is the link of the hottest list to see who's getting all the attention from men. http://www.latineuro.com/hottest_women.php
LatinEuro.com has pioneered international dating for the last 23 years and is one of the world's most famous and oldest dating sites. It has people from all over the world and the USA but specializes in Latin culture. Contact Vania Santos at: 1-305-858-7766 or vania(at)latineuro(dot)com, http://www.LatinEuro.com, 444 Brickell Avenue, Suite 51-517, Miami, Florida 33131 USA.
###