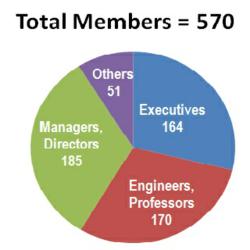 San Jose, California (PRWEB) October 31, 2011
The 3D-IC LinkedIn Group announced today that it reached more than 500 members. Started as a discussion forum for 3D Integrated Circuits (3D-ICs) in July, 2011, the LinkedIn Group has seen a rapid growth of membership due to the industry's high level of interest in the technology.
At present, the 3D-IC LinkedIn group's membership includes 164 executives, 170 engineers and 185 mid-level managers. The presence of key engineers, researchers and decision makers in the 3D chip space makes the group a good forum for knowledgeable and influential discussions. It is run by a team of volunteers working on 3D-ICs, with support by MonolithIC 3D Inc. Its goal is to help popularize the technology and build awareness for the various 3D-IC alternatives as they continuously evolve.
Interest in the 3D integration field is high. Market research from Yole Developpement projects that the market for 3D TSV packaging will increase from $325M in 2009 to $4.1B in 2015, a cumulative annual growth rate (CAGR) of 53%. This compares with a projected CAGR of 7.7% for the overall semiconductor packaging industry. In addition, players in the memory industry, such as Toshiba, Samsung, Micron and Hynix, are actively exploring monolithic 3D approaches to NAND flash memory, with risk production scheduled to begin in the next 3 years.
The 3D-IC LinkedIn Group recently announced a collaboration with 3D-ICs.com, a portal dedicated to aggregating news stories on the technology. Top news articles and blog posts from 3D-ICs.com are provided on the 3D-IC LinkedIn Group for discussion and comments. "We are delighted to serve the 3D integration community by sharing our top news posts with the LinkedIn Group," says Francoise von Trapp, the Editorial Director of 3D-ICs.com. "This collaboration just furthers our overall goal of building awareness in the semiconductor industry and stirring up further interest in both 3D TSV packaging and monolithic 3D technologies."
You can join the 3D-IC LinkedIn Group by clicking here.
# # #