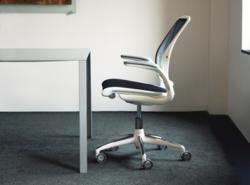 A masterpiece of design simplicity.
Beltsville, MD (PRWEB) October 31, 2011
Described as a masterpiece of design simplicity, Niels Diffrient's latest creation, the World chair, combines maximum performance and functionality in a design that utilizes one-third the parts and less than half the raw materials of competing high-performance task chairs. As a leading source of the most desirable ergonomic seating and accessories, Sit4Less.com is committed to bringing the latest innovation in office seating to the home and small office customer and is excited to add the World chair to its line-up of office seating solutions.
The renowned designer Niels Diffrient has worked with Humanscale for 12 years; as an engineer, artist and pioneer in the field of ergonomics. What sets Diffrient apart is his ability to achieve timeless beauty, exceptional performance and unparalleled comfort through remarkably simple designs. Among his numerous design innovations are three incredibly comfortable chairs – the Freedom, Liberty and most recently the World chair. The World chair features an unprecedented combination of performance, sustainability and simplicity.
The World chair marks Humanscale's first all-mesh task chair. The tri-panel backrest hugs the body to provide tailor-made lumbar support, while its mesh seat eliminates contact stress under the thighs. But the World's major innovation is its mechanism-free recline action, which leverages two parts of the chair's frame and the laws of physics to provide automatic, balanced support throughout the full range of recline. With only two manual settings, one for seat height and one for seat depth, the World chair is the ultimate user-friendly sitting experience. The Diffrient World chair's simplicity means that users can take full advantage of its ergonomic benefits the moment they sit down, without even thinking about it.
Simple is better for the environment too. Minimal-part designs require far less raw material and fewer manufacturing processes and that means less extraction, energy waste, shipping and disposal associated with a product's lifecycle. Weighing just 25 pounds, the environmental impact of the Diffrient World chair is roughly half that of an average task chair. In addition, the World chair is 97% recyclable.
Both Sit4Less.com and Humanscale believe that a more comfortable place to work means a happier and more productive work force. The Diffrient World chair provides the ergonomic support without the complicated mechanics many of the leading office chairs require. So instead of managing chair training for today's and tomorrow's employees organizations can focus on comfortably managing the business at hand.
Sit4Less.com is the leading source for the most desirable ergonomic seating and accessories found in global Fortune 500 companies and delivers them to the home and small office customer – for less.
###