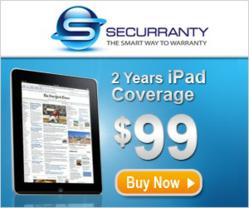 Owners of iPhone & iPad can Transfer their existing insurance to Securranty and save up to 70%! No one in the industry offers a better value.
(PRWEB) October 31, 2011
Securranty offers the best value in warranty for iPhone 4s. The premium of $89 for 2 years of protection offered by Securranty comes to about $4.00/month. Mobile phone carriers charge a monthly premium of up to $11/month for iPhone Insurance. When the high deductible of $199 that mobile phone carriers charge for filing a claim is factored in, the savings add up to about 70% with Securranty. Regardless of where the smartphone or a device is purchased and who the carrier of service is, simply purchase an iPhone Warranty from Securranty for huge savings. Click on the Compare Us tab for a comparative chart of Securranty Warranty against other providers.
Securranty can save up to 70% on the Samsung Galaxy S II warranty as well. The fans of Android OS that plan to purchase the popular Galaxy S II and shop for phone insurance can protect themselves against the cost of expensive repair or replacement by purchasing the most comprehensive and best smart phone warranty. If a smartphone already has phone insurance or iPhone Insurance from a cell phone carrier or other warranty providers, simply transfer the coverage to Securranty and save up to 70%. The transfer process is simple: (1) Buy coverage from Securranty (2) Cancel current coverage for a pro-rata refund and start saving up to 70%....Guaranteed! Even if the device is more than a year old, paying high phone insurance and deductible makes no sense. Transfer to Securranty as long as your device is under existing coverage from another provider or the manufacturer and save.
Securranty is also offering a special price on the Kindle Fire Warranty that is scheduled for a launch in November. The 3-Years of Extended Warranty + Accidental Damage & Handling for the Kindle Fire tablet is only $49.
Securranty offers 10% discount with the purchase of two or more polices. Thus taking advantage of multiple policy discount and buying warranty for iPhone, iPad, or a Television Warranty will provide substantial savings. Securranty not only provides the most comprehensive coverage and the best value, but also offer an option of affordable monthly payments without any interest or credit check. Use coupon code SEC10CWNT to receive 10% off when purchasing 2 or more policies.
Securranty's Get Smart page provides handy comparison charts of offerings by different warranty & insurance providers to help inform and educate customers. They also present, in a clear and concise manner, the factors one must consider when purchasing a warranty.
About Securranty:
Securranty is a leading provider of extended warranty services for a number of technology products including smart phones, tablets, computers, televisions, home appliances, commercial equipment and other consumer electronics. All our policies are guaranteed during the full term of the service contract as they are backed by a Licensed Administrator and regulated by the Department of Licensing & Regulations to ensure obligation, compliance, and guarantee. The Extended Warranty programs are managed by industry experts specializing in the warranty business. Securranty has established nationwide service capabilities by creating the largest field service team in the industry, as well as a network of smaller more specialized providers. At the heart of Securranty's service model is the state-of-the-art Call Center, staffed 24-hours/7 days-a-week, located in Southwest Wisconsin, in a community called Cuba City. The center is setup and staffed by United States citizens, as there are eight colleges and universities within 20 miles of Cuba City. The Help Desk is staffed by highly trained Specialists to assist with any questions or claims in English, French and Spanish, providing excellent service across USA & Canada.
# # #